Visual Description:  Future rental property.
CNUKS  =  SNUCK,  USISE  =  ISSUE,  CEISNK  =  SICKEN,  BINEBL  =  NIBBLE   —   Giving us:  SNUISESIENNBB
Clue/Question:  They were building a small lodging establishment and would soon – – –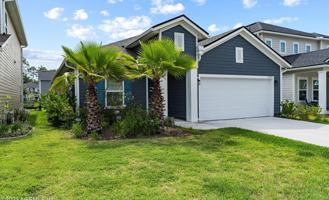 Answer:  BE "INN" BUSINESS
(A very relevant stinky pun, of a very contemporary "side hustle".  When the wife and I went to Arizona to watch our grandson's baseball tournament, we stayed in a VRBO property with my step-son and grandson.  Because of spring training MLB, and this tournament, hotel rooms were at an unreasonable premium.  A three bedroom, two bathroom house was much less than half of what it would've cost us to book two hotel rooms!  It didn't quite match the photos, but it was definitely good enough.  It was in a safe residential neighborhood and had a nice amount of amenities.  First time using this kind of accommodations for the wife and me, but the younger generations use them quite frequently.
We have definitely seen all of today's clue words in past Jumbles.  Three of the jumbles appear to be new, but I can attest to the fact that Hoyt has used "usise" in at least one previous Jumble.  None of them tripped me up today!  The answer letter layout was a terrific thirteen letter jumble.  Sufficiently cryptic.  The words "lodging establishment" in the clue/question, and the quotation marks in the final answer slots made for a quick solve, for me.
Great cartoon of a young couple dealing with their contractor, as he and his workers work on the house.  I guess some folks build them new, but a lot of others just buy up older properties and renovate them.  Whatever works!  Be well and do good, friends.)   —   YUR
Images courtesy of Google