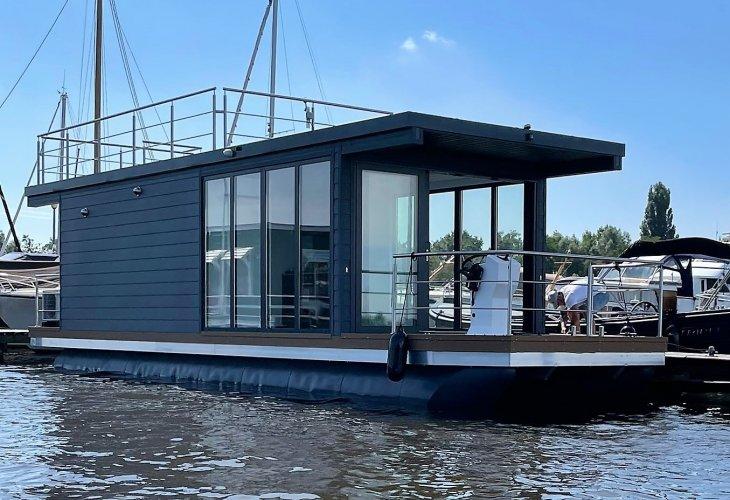 Visual Description:  Disappointment snafu.
TROAA  =  AORTA,  RWILH  =  WHIRL,  NVLEEE  =  ELEVEN,  NYOLFD  =  FONDLY   —   Giving us:  OTWILENDL
Clue/Question:  They missed their chance to buy the boathouse, but they weren't going to – – –
Answer:  DWELL ON IT
(Yes.  I know.  One of the guys screwed up the clue/question, but it's an understandable mistake.  It should say "houseboat" and not boathouse.  You can actually live on a houseboat, but you would keep your boat in a boathouse.  So, you couldn't really dwell on a boathouse.  I suppose you could dwell in it though.  Unless you're completely inflexible I think that you probably saw past this – rare –  minor mistake.
All of today's clue words are classic old favorites.  However, all four jumbles are coming up as new, for me.  No real stumpers though.  The answer letter layout was nifty nine letter jumble.  Nothing about it gave the final answer away.  The leading nature of the clue/question made for a quick solve.
I enjoyed the cartoon of the older couple looking at a houseboat that they had hoped to purchase.  No newspaper delivery on Saturday for me, so I had to print it out from the e-edition.  I lose a lot of detail that way, but I liked the gull, the SOLD sign, the couch, and what looks like a WELCOME mat.  I also like the light/marker on the  . . . is it a jetty, or a breakwater?  I get them mixed up.  Be well and do good, friends.)   —   YUR
Images courtesy of Google and fine art america