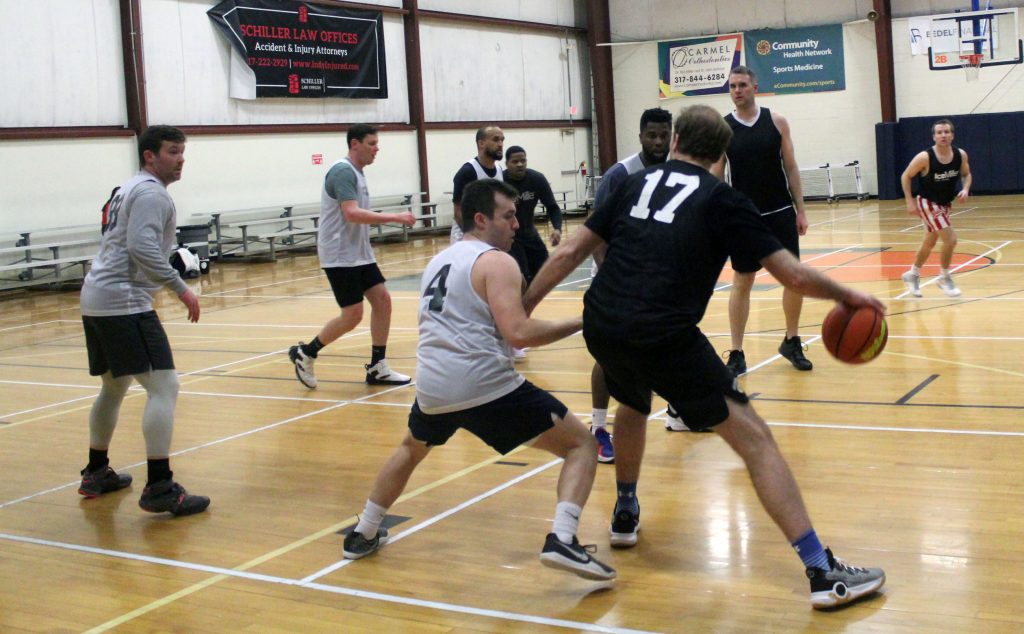 Visual Description:  Basketballing barristers.
RUYCL  =  CURLY,  RUFYR  =  FURRY,  ROSWOR  =  SORROW,  GSATEK  =  GASKET   —   Giving us:  CULFROOWAT
Clue/Question:  When the two attorneys talked business while playing basketball, it was a – – –
Answer:  COURT OF LAW
(A wonderfully stinky pun!  And, speaking of stink, I think both of these guys are in dire need of a shower!  But, they're not really talking law.  They're just talking smack!  It's what guys do when they're competing.  Gals too, I suppose.  Not being a gal, I can't say for sure.  With guys it's more like a goofy kind of psychological warfare.  Make him laugh a little bit, or even a little pissed off.  As long as he loses a little focus.  I remember playing one-on-one with my buddy Danny G., right around the time of "Doctor My Eyes", by Jackson Browne.  Whenever he had the ball I'd start singing "Doctor . . . my ba- alls!"  He'd break up, and I'd either steal the ball, or he'd muff the shot.  Hey, I needed an edge.  I'm a terrible dribbler.
It's been a while, but yes.  We've seen all these clue words before.  Two of the jumbles appear to be new, but we've definitely seen "rufyr" and "roswor" previously.  I was able to see all the clue words straight away.  The answer letter layout was a terse ten letter jumble.  I thought it was craftily cryptic.  This time I saw COURT right away, then OF LAW.
Fine cartoon of the counselors of the court, unwinding after a tough week of torts and contracts and cases.  They used to say that white men can't jump, but at the recent NBA All-Star Weekend a relatively diminutive – 6′ 2″, 180 lb – Mac McClung won the Slam Dunk contest, beating out the creme de la creme of the NBA.  Supposedly he's got ball some handling problems, but this is one white kid that CAN jump!  If the NBA can't find a home for him maybe he could join the Harlem Globetrotters!  They could use a little diversity.  LOL.  Be well and do good, friends.)   —   YUR
Images courtesy of Google