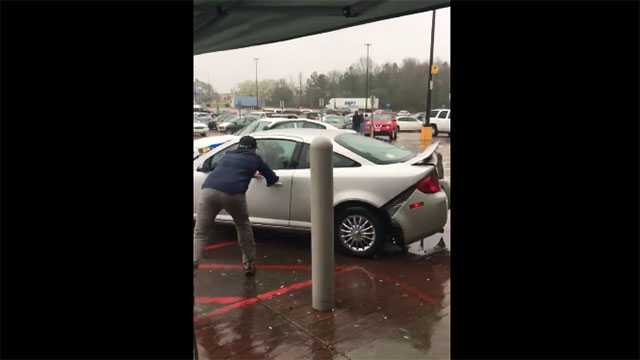 Visual Description:  Losing his touch?
KAWEA  =  AWAKE,  CHIRB  =  BIRCH,  PINTAC  =  CATNIP,  NSYAWK  =  SWANKY   —   Giving us:  WEIRHCTIWNK
Clue/Question:  After seeing the damage to the car, there would be a lot to – – –
Answer:  "WRECK–IN" WITH
(Poor Ralph!  Why did that post back-up to his car like that?!!  I actually had a woman ask me that after she rear-ended me . . . at a stop light!  After she hit me, I put my car in Park and went out to check on her and her passengers, to see if anyone was hurt.  I expected some kind of apology, or at least an "oops!"  But, she screamed at me:  "Why you back up?"  I don't think I've ever felt more incredulous in my entire life.  Seeing that there was no damage to either car, I just told her to have a nice day, and got back in my car and left.  I don't like to ascribe to "popular stereotypes", but that encounter definitely reinforced one.
The clue words are all long-time members of the ralis95 clue word database.  However, all four jumbles appear to be brand new.  Surprisingly, it took me a few looks to see "catnip".  The others . . . right away.  The answer letter layout was an elusive eleven letter jumble.  I immediately thought of the word WRECK, but it took a little letter checking off before I saw the entire pun.  Nice job, Hoyt!
Great cartoon of an elderly couple after they backed into the post.  Not sure why anyone would need a tow truck in this situation though.  I guess it was kind of necessary in setting up the pun.  I'm a little surprised that Jeff is reinforcing another "popular stereotype".  Ageism is not a pretty look, Jeff.  You should know your audience better!  LOL!  Be well and do good, friends.)   —   YUR
PS.  Google Images is being seriously obtuse today!  It doesn't seem to understand "rear-ending" or "backing into".  Tons of front-end crashes involving posts though!   —   YUR
Image courtesy of Google