Visual Description:  Beary nice.
FYATF  =  TAFFY,  YSZET  =  ZESTY,  ZPLUEZ  =  PUZZLE,  BAFULI  =  FIBULA   —   Giving us:  TAYZETUZLFIL
Clue/Question:  The selfie taken by the small teddy bear came out – – –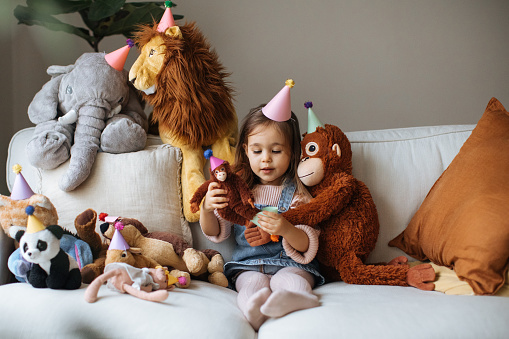 Answer:  A LITTLE FUZZY
(So . . . perfect?  Cute Jumble pun.  It looks like it could be a scene from one of the "Toy Story" movies.  I remember, back in the late '80s – early '90s, a lot of managers would say something like:  "It's not giving me a warm and fuzzy." when they didn't like someone's idea.  I always despised that cutesy BS phrase. Some business speak phrases have stayed with us, like:  "Let's run it up the flagpole.", but thankfully "warm and fuzzy" has gone onto "the ash heap of history".
All of today's clue words are on the ralis95 clue word database.  FIBULA seems to be one of the few bones on the list.  If David L. wants a new clue word he could always go with CARPAL.  To my knowledge, it's never been used as a racial epithet!  Surprisingly, all of today's jumbles have come up as new, for me.  I didn't find any of them to be head scratchers.  The answer letter layout was a snazzy twelve letter jumble.  I thought it was more than adequately cryptic.  The cartoon and clue/question set things up nicely, for quick answer.
Really cute kid's toys cartoon.  I like the little ducky on a string saying "I follow you!"  That looks either like a Barbie doll, or her kid sister Skipper.  I hope that little kids, at least, still play with toys.  I'm seeing way too many toddlers using their parents' cell phones these days, and I think that's kind of sad.  Be well and do good, friends.)   —   YUR
Images courtesy of Google