Visual Description:  Meteorology class.
NCUDE  =  DUNCE,  NRILE  =  LINER,  VYRSUE  =  SURVEY,  TRWMHA  =  WARMTH   —   Giving us:  NCLEURYRT
Clue/Question:  The average speed of the Gulf Stream is about 4 miles per hour, – – –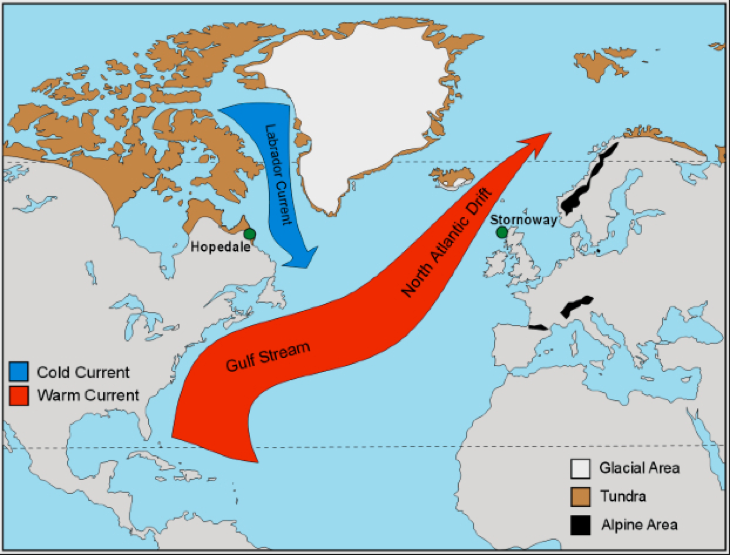 Answer:  CURRENTLY
(Like the professor is saying, the Gulf Stream seems to be slowing, and that is NOT a good thing.  It's slowing due to rising water temperatures in the Western Caribbean Sea.  And of course, these rising water temperatures are due to man-made Global Warming.  The result being a longer, and stronger hurricane season, and rising sea levels.  Our old pal Ben Franklin coined the term "Gulf Stream", as he thought it originated in the Gulf of Mexico.  He wasn't really off by much, but it originates in the Western Caribbean.
None of today's clue words were new, but all of their jumbles were coming up as new, for me.  The only one to give me any pause was "nrile".  But it was a brief pause.  The answer letter layout was a nifty nine letter jumble.  it took me nearly a minute to get the final answer.  Figuring that it ended in LY was a good start.  Then the pun came to me.
Great college classroom scene cartoon.  The student is asking a valid question.  I don't know the answer.  I do know a little about the surface speed though, which is faster than the average speed.  Currently, the surface speed of the Gulf Stream is about 5.6 MPH.  Back in 1982, according to the World Book Encyclopedia – that we're still holding on to, it was 5.7539 MPH.  So, it has slowed in the last 40 years.  And, I'd assume that it was somewhat faster in 1942, and so on.  As the world's population increases, we've increased our consumption of fossil fuels, resulting in more carbon dioxide in the atmosphere, and overall higher average temperatures worldwide.  Before some ninny "Denier" tries to refute these irrefutable facts I would like to issue a pre-emptive STF!  Most of you are familiar with the proverb:  You can lead a horse to water, but you can't make him drink.  My revised version is:  You can lead a man to/with logic, but you can't make him think.  Because some folks – simply – refuse to hear the truth.  For them:  Go back to sleep, y'all.  Be well and do good, friends.)   —   YUR
Images courtesy of Google