Visual Description:  Magpie nag.
VRLAA  =  LARVA,  GTURN  =  GRUNT,  BARNET  =  BANTER,  SCOHOM  =  SMOOCH   —   Giving us:  ARAGRNBANEMCH
Clue/Question:  The crow who considered herself to be in charge of roosting was the – – –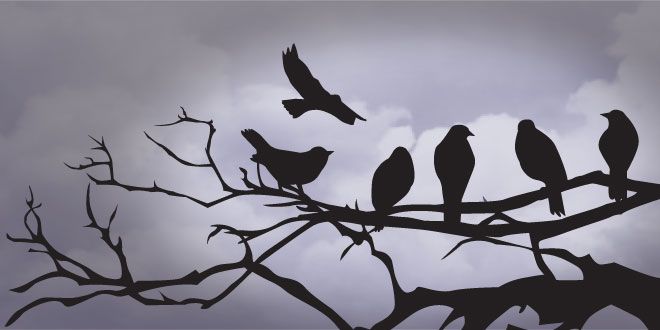 Answer:  BRANCH MANAGER
(Just a bossy broad . . . er bird!  Sorry ladies.  But, if the guys are going to set me up like that . . . well, I just have to knock 'em down!  Don't I?  No?  Oh, well.  Do what you will with me.  Report me to the PC Police, or even the #MeTooMafia.  They'll never take me alive.  Top o' the world, Ma!
Hey there, hi there, ho there.  All of today's clue words are familiar old chums.  Three of the jumbles appear to be new, with only "scohom" having definitely been used before.  For some reason, I had a tough time seeing both "smooch" and especially "banter".  Good jumbles, I guess.  The answer letter layout was a splendid thirteen letter jumble.  Beautifully cryptic.  The cartoon and the clue/question set up the final answer perfectly, for me.
Simple, but fun, cartoon of four crows in a tree.  Just by the size of the three to the right, I'm guessing they're males.  A lot of guys – and a lot of women, for that matter – have a hard time dealing with a lot of female managers.  I think some women managers do try a little too hard to be overly strict.  It's always a fine line when you're managing people, but I think the line has always been finer for the women managers.  It's tough, but I think things are getting better.  Be well and do good, friends.)   —   YUR
Images courtesy of Google