Visual Description: Give her a round of applause!
VEAEL = LEAVE, TBYAT = BATTY, HORSDU = SHROUD, ATNTIA = ATTAIN — Giving us: EAETTSODTT
Clue/Question: She correctly answered every question on her history exam, which her score – – –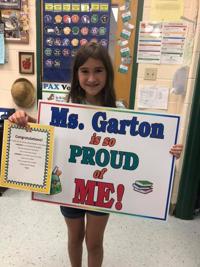 Answer: ATTESTED TO
(A regular Amy Schneider in the making! Hey, how about Amy's 40 game win streak on Jeopardy?!?! In number of wins she's second only to Ken Jennings, and fourth in – regular season – prize winnings! And of course she's the leading women's money winner. I remember the first episode she was on I was like: Wait. Isn't she a dude? It immediately struck me that she might be trans. Then, a few days later, my daughter came home and essentially said the same thing. Then, talking with one of my MNF buddies, who's also a Jeopardy fan, he said that some of the online Jeopardy fan sites confirmed she was indeed transgender. And, by that time it really didn't phase me one bit. I was never angry by it, just more curious, because I guess many of us have a kind of sixth sense for these kind of things. I know I never rooted against her, and I can't say that about all Jeopardy champions. I think with her long winning performance she opened a lot of eyes about how normal transgender folk are, and hopefully she has opened doors for people in the transgender community. She gets a big Congrats from me!
No surprises on the clue word front. Two of the jumbles appear to be new, however we've definitely seen "tbyat" and "horsdu" in previous Jumbles. All the clue words came to me quickly. The answer letter layout was a tidy ten letter jumble. Sufficiently cryptic. Hey! Did you see the Final Jeopardy answer that ended Amy's run? It tripped me up too, and I think it was – in part – due to the unusual phrasing of it. "The only nation in the world whose name in English ends in an 'H', it's also one of the 10 most populous." Even right now I don't understand why they chose to insert "in English"! It just seems totally superfluous to me. Would I have gotten Bangladesh without the "in English"? I can't say with 100% certainty. But I am old enough to remember when it was known as East Pakistan! And, I remember George Harrison's Concert for Bangladesh. And, for a time I had a Bengali woman who reported to me, back in my banking days. Knowing that a lot of Jeopardy "answers" contain little clues that can help you get the correct "question" I think that this one was designed to raise a little doubt!
Cute cartoon of the proud little girl showing her delighted parents her grand achievement. Pigtails, backpack, and the tail end of a school bus pulling away. Like the teacher's note says, Great Job! Be well and do good, friends.) — YUR
Images courtesy of Google
Happy birthday to Jeremy Ruzumna of Fitz and the Tantrums!