Visual Description:  Nice hotel breakfast!
IGDRI  =  RIGID,  CGEOK  =  GECKO,  TNIEEC  =  ENTICE,  VAYCIT  =  CAVITY   —   Giving us:  RGIGKENCCAT
Clue/Question:  The breakfast buffet was opening, and the omelet chefs were ready to – – –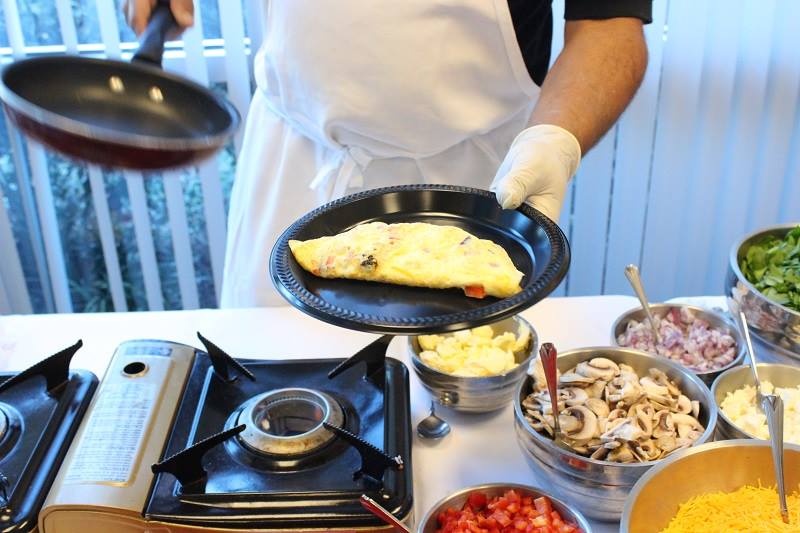 Answer:  GET CRACKING
(Hey!  You can't make an omelet without breaking a few eggs . . . right?!!  Ever since I crossed over from my years of Pre-Diabetes, to full blown Type 2 Diabetes, I've been eating eggs almost every single morning!  And, sometimes more than once a day too!  Good thing I love eggs.  This always puts me in mind of Billy Crystal's Howard Cosell/Muhammad Ali/Larry Holmes "I Like Eggs" routine.  Billy did fantastic impressions, but in today's environment the PC Police would likely shoot this down.  I'm going to give it to you guys anyway.  For those of you who still have a sense of humor . . . enjoy!
All old reliable clue words today.  But, surprisingly, all of today's jumbles are coming up as new.  Even so, I was able to get them all immediately.  The answer letter layout was an elegiac eleven letter jumble.  Of course that is hyperbole, but I dig alliteration, folks!  It did a fine job of disguising the final answer though.  My first inclination was that the first word might be EGG.  But I wasn't digging the flow.  I saw GET, and CRACKING came right after that.
Nice cartoon of the hotel's breakfast buffet station.  Definitely better than the "Continental Breakfast" that some lesser hotels offer.  It seems that morning has broken.  No, we're not doing that song!  But I did enjoy seeing the very tiny classic sinking sailboat on the horizon, with the sunrise.  It looks like it's going to be a glorious day!  Be well and do good, friends.)   —   YUR
Images courtesy of Google
Happy birthday to Mike Pinera of Blues Image!  (Probably my favorite song from when I was 12/13!)