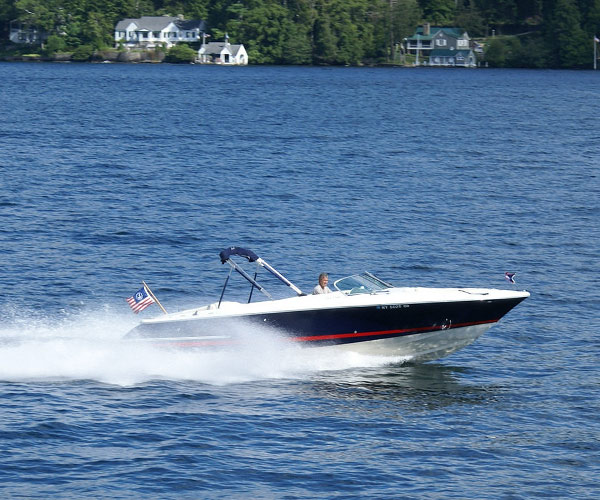 Visual Description:  Hot rod boater.
URROM  =  RUMOR, MUYTM  =  TUMMY,  SHOOYC  =  CHOOSY,  TANETB  =  BATTEN   —   Giving us:  ORUMMHOOTT
Clue/Question:  The guy who wouldn't stop talking about how fast his boat could go was a – – –
Answer:  MOTOR MOUTH
(Boy, I really saw that one coming!  It's a great pun though, and very appropriate.  I think most people like to enjoy the tranquility of being on the water, while there are those who just have to power through it at high speeds.  To each their own.
We have another new clue word today in "batten".  Our good friend ralis95 will have to also add it to his world famous clue word database.  Three of the jumbles appear to be new, with "muytm" having definitely been used before.  The answer was another swell ten letter jumble.  Cryptic enough, but I saw the final answer a nautical mile away.
Fine cartoon of boaters at a lake.  I like the blasé look on the guy next to the pontoon boat, talking to the hot shot in the speedboat.  I wonder if the hot shot will eventually grow up?  Maybe not.  Some people always seem to have that need for speed.  Be well and do good, friends.)   —   YUR
Images courtesy of Google