Visual Description:  . . . and nary a drop to drip!
BEFELE  =  FEEBLE,  SRYGSA  =  GRASSY,  NEOYRD  =  YONDER,  UOQAEP  =  OPAQUE,  FNITNA  =  INFANT,  HMPIRS  =  SHRIMP   —   Giving us:  EEGSSYOROAEIFSHR
Clue/Question:  When she saw that they were out of the drops she was looking for, it was – – –
Pre-Answer:  Five Words  (1-letter)  "(4-letters)"  (3-letters)  (4-letters)  (4-letters)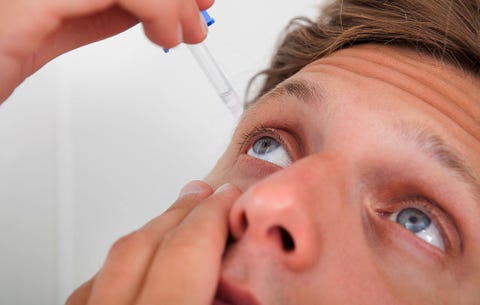 Answer:  A "SIGH" FOR SORE EYES
(All she could do was sigh!  I don't think she could produce any tears.  I hate it when I get dry scratchy eyes.  They look like crap and they feel like crap.  They always tell you not to rub your eyes, but sometimes that's all you can do!  I usually start my day with a warm wet compress, as I have a tear duct issue.  A washcloth/facecloth does the trick.
None of today's clue words are new.  But I think that FEEBLE should be taken off of the list!  The letters BEFELE can also spell BEFELL, which is the acceptable past tense of BEFALL.  I thought that the jumble was a little obvious for BEFELL, but I was pretty sure it was a legit word.  My initial answer letter layout started with FL instead of EE, but I picked up on the final answer pun right away.  I realized I needed EE, and then I saw FEEBLE.  I Googled BEFELL, and it came up as past tense of BEFALL, and as I typed this spoiler even WordPress accepted BEFELL, so I really think we need to reconsider/remove FEEBLE as a non-qualifying Jumble clue word!  All of the jumbles came up as new for me though.  And, the answer letter layout was a superlative sixteen letter jumble!
Fine cartoon of a shopper at the pharmacy counter.  I hate when they're out of what I really want/need!  It makes you wonder:  Why me???  Oh, well. She can always try a different drug store.  Or, settle for the warm wet compress.  Be well and do good, friends.)   —   YUR
Images courtesy of Google