Visual Description:  Not so fun-house mirror.
UDSEE  =  SUEDE,  SLIBS  =  BLISS,  FLEEIN  =  FELINE,  ROHDUS  =  SHROUD   —   Giving us:  EDEBLSFEIESHR
Clue/Question:  When she saw that the brand-new mirror was cracked, she was – – –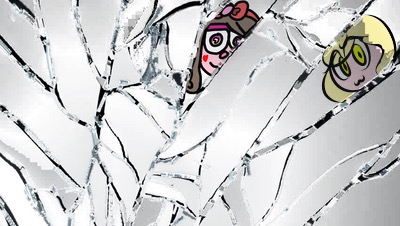 Answer:  BESIDE HERSELF
(As long as the two images aren't distorted, I don't really see a major problem.  Although, would you really get a double image with a cracked mirror?  Hmm.  Regardless, I love the pun.
Somebody please tell me that we've had "feline" before, in a Sunday Jumble!  I just find it hard to believe that today is the first day we're seeing this *new* clue word.  Well, one way or another, it should be a new addition to the world famous ralis95 clue word database!  Three of the jumbles appear to be new.  But, we've definitely seen "slibs" before.  The answer letter layout was a beautiful thirteen letter jumble.  But, the final answer was instantaneous, for me.
Must be the result of the great cartoon, and its dialog.  Her triple expression of disappointment was definitely a major clue.  The sad-sack hubby is going to be in the doghouse!   Hey, he tried!  Be well and do good, friends.)   —   YUR
Images courtesy of Google and DeviantArt