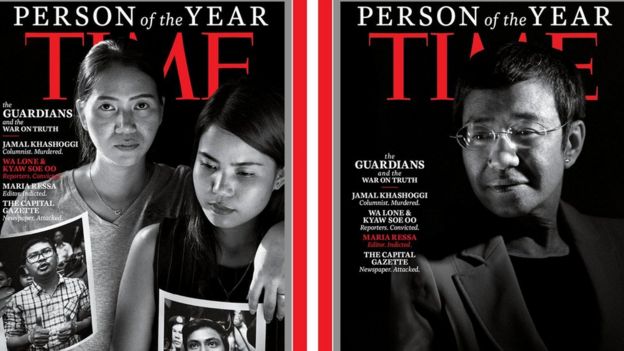 Visual Description:  It's not always a good/nice person!
PENIT  =  INEPT,  TIYWT  =  WITTY,  LOLWEM  =  MELLOW,  TYEALL  =  LATELY   —   Giving us:  IETWITMLLLEL
Clue/Question:  Who is going to be the magazine's "Person of the Year"?
Answer:  TIME WILL TELL
(Yes, they will.  And yes, this is a good stinky pun too!  I subscribed to Time Magazine for close to forty years, just recently letting it lapse.  It's definitely part of the Corporate Media, but I learned to take what they were offering with a grain of salt.
All of today's clue words are familiar old friends.  And, one of the jumbles, "penit", has definitely been used before, but the other three appear to be new.  It took me a few looks before I saw "lately".  Great twelve letter jumble for the answer letter layout.  I don't feel it gave anything away.
Fine cartoon of the magazine editors making their selection.  I like the photos of the past recipients hanging on the wall.  Looks like "Bubba" and "Duh-bya".  I thought I liked one.  Never cared for the other.  Fun Jumble though.  Be well and do good, friends.)   —   YUR
PS.  A message from David L. Hoyt:
To anyone in the Seattle area today…I will be playing GIANT Word Winder at the Bothell Library from 7 PM to about 9 PM. The library is located at 18215 98th Avenue NE, Bothell, WA 98011 about 25 minutes north-northeast of downtown Seattle.
http://giantwordwinder.com/
Thanks!
— David L. Hoyt
Images courtesy of Google