Visual Description:  Two dudes scoping the tubes.
TWESP  =  SWEPT,  FAREW  =  WAFER,  SLUBEH  =  BUSHEL,  EECDTT  =  DETECT   —   Giving us:  SWEFERBUHDET
Clue/Question:  To see where the biggest waves could be ridden, they – – –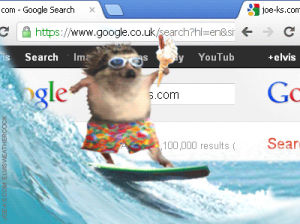 Answer:  SURFED THE WEB
(If you saw the preview of the cartoon yesterday, you probably already had a good idea what the answer was going to be.  The big question, from that, was what would the clue/question be.  I took a crack at it, and so did jungman.  We were in the ballpark.
None of the clue words were new, but three of the jumbles seem to be.  They've definitely used "slubeh" in the past.  The answer letter layout was a nice 12 letter jumble.  I don't think it gave anything away.
The cartoon shows two 21st Century surfers, utilizing today's technology, in order to maximize their off the hook experience.  My one step-son, who loves to surf, showed me one of these sites a few years ago.  He checks it religiously.  Hopefully, these guys are more than hodads and kooks.  Be well and do good, friends.)   —   YUR
Images courtesy of Google