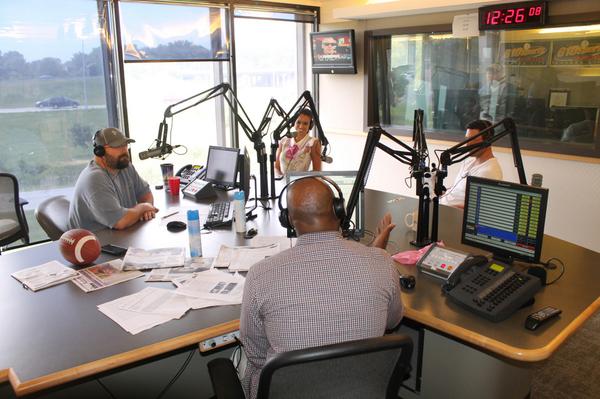 Visual Description:  Sports radio interview.
DUEES  =  SUEDE,  SSLAA  =  SALSA,  ZYNASZ  =  SNAZZY,  TPECID  =  DEPICT   —   Giving us:  EDESSSNAEPT
Clue/Question:  Saying "Joe Montana threw for 273 NFL touchdowns," is an example of – – –
Answer:  "PASSED" TENSE
(Another seasonally appropriate stinky pun.  Despite numerous game delays/postponements, due to the Covid-19 pandemic, we're heading into week 13 of the 2020 NFL season.  Plenty of teams are well positioned for the playoffs, while plenty of teams will be lucky to finish at .500%.  And, then there's the Jags and the Jets.  Not a very happy year for teams that start with a J.  I hope that they both can manage a win in the next few weeks.
No new clue words today.  Three of the jumbles appear to be new, but we've definitely seen "sslaa" sometime before.  I was able to see the clue words right away today.  The answer letter layout was nifty eleven letter jumble.  I think it did a fine job of disguising the final answer.  It took me a minute, or two, before the light bulb came on.
Fun cartoon of a sports radio studio.  I liked the engineer behind the glass, and the "I ❤ Jumble" mug.  Can't say this is Jeff's best attempt at a famous person.  Not bad though.  He got the cleft chin right.  Joe must be hard to capture.  Overall, a fairly challenging Jumble!  Be well and do good, friends.)   —   YUR
Images courtesy of Google