Visual Description:  Late '60s/early '70s Rock scene.
RIWTL  =  TWIRL,  GEEWD  =  WEDGE,  TOMHOS  =  SMOOTH,  VONGRE  =  GOVERN   —   Giving us:  TIREDGSOTHOEN
Clue/Question:  Jim Morrison and his band had so many fans, it was difficult to – – –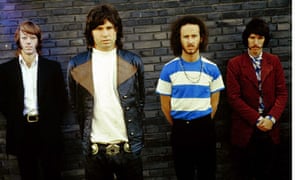 Answer:  GET IN THE DOORS
(As a long-time Rocker, I gotta love it!  The Doors might not be everybody's cup of tea, but their name makes this pun!
No new clue words today, but three of the jumbles are coming up as new.  We've definitely seen "riwtl" before.  It took me a second or two to see "smooth", and multiple looks before I saw "govern".  I thought "vongre" was a great jumble!  I didn't have to back into it, but I was challenged.  The answer letter layout was a beautiful, long jumble.  I felt it hid the answer very nicely.
The cartoon is another great period piece!  Probably 1970 or so.  Very good likeness of the band.  I'm assuming the guy in the lower right is their manager.  The bellhop, behind the hotel doors, looks both shocked and a little scared.  I really liked the guy peeking around the side of the hotel, trying to signal them to go that way.  a very satisfying Jumble.  Be well and do good, friends.)   —   YUR
Images courtesy of Google