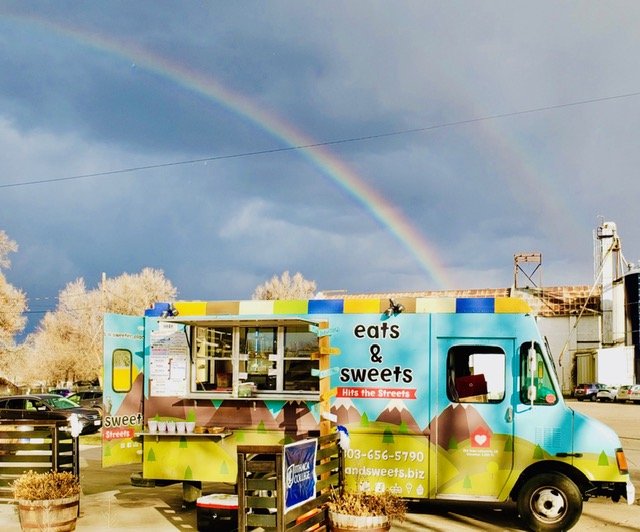 Visual Description:  Confection affection!
WATHE  =  WHEAT,  EIFNK  =  KNIFE,  AWLRYE  =  LAWYER,  SUUTNJ  =  UNJUST   —   Giving us:  WATKELEST
Clue/Question:  His compliments of the sugar cookies she'd made included – – –
Answer:  SWEET TALK
(At least it seems to be reciprocal.  She is calling him "honey".  Chances are she calls all of her customers either sweetie, or honey.  But I wouldn't be surprised if she showed a little preference to her regular customers.  It's just good business.  Outside of Christmas time, I can't be bothered with sugar cookies.  And, even then I don't get too excited about them.  They're alright, I guess.  But they're just . . . sweet.  Not a lot to them.  I can think of a lot of other cookies I'd rather eat.
Today's clue words were all regular customers, too.  But it turns out that all of the jumbles are new.  At least for me they were.  Surprisingly, it took me a couple of looks to see both "wheat" and "lawyer".  But none were terribly difficult.  The answer letter layout was a fine nine letter jumble.  I thought it was remarkably cryptic.  I'm sure the spacing of the final answer slots was my biggest hint.
Great cartoon of "Sugar's Sugar" bakery shop.  Along with the sugar cookies, I can see some tasty tarts, some delicious cupcakes, and a big ol' cake.  I really enjoy almond macaroons, sometimes called almond past cookies.  It all depends on what kind of bakery.  The cookies that I never seem to find are good old fashioned molasses cookies.  I once had a girlfriend who cooked those for me.  My, my, my, they were mighty tasty cookies.  And, she was . . .  Uhh, but that was 40 some years ago, before I got married.  I did have a few when the Chatterbox Club sent over a full meal to my family when my Mom passed away, a few years ago.  It was a very nice spread, and a wonderful gesture, acknowledging a long time member's passing.  Fun Jumble!  Be well and do good, friends.)   —   YUR
Images courtesy of Google
Happy birthday to Tom Higgenson of Plain White T's!