Visual Description:  Cookie cooking clan!
MATUG  =  GAMUT,  GREME  =  MERGE,  THEEIR  =  EITHER,  TNOKYT  =  KNOTTY   —   Giving us:  GAMMREIRKNY
Clue/Question:  They loved baking Christmas cookies together and were enjoying all the – – –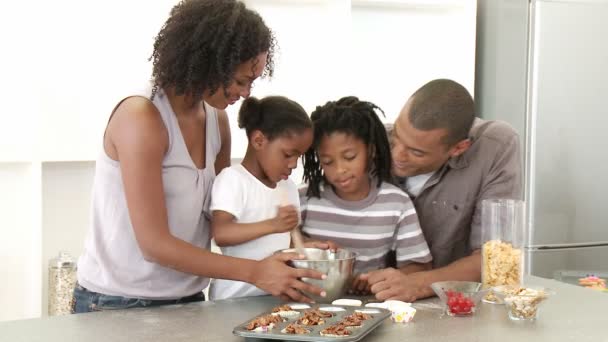 Answer:  MERRYMAKING
(Wow!  I have to admit that I did not get today's final answer!  At first I was trying to come up with a word like CAMARADERIE, but ending in ERY.  Then, I did consider a word ending in ING, but wasn't seeing the answer.  So, I let my daughter look at it, and after a couple of minutes, she got the answer.  Personally, I never would have thought that MERRYMAKING was a compound word.  Go figure.
No new clue words today.  Two of the jumbles appear to be new, but we've definitely seen "matug" and "greme" before.  I was able to see all of the clue words immediately.  But, that eleven letter jumble of an answer letter layout was a toughie for me!
Cute cartoon of a family that bakes together.  I wasn't sure how many generations I was looking at, so I wasn't sure if GRAMMY was going to be part of the final answer.  I didn't work at it very long, so I don't know if I'd have come up with it on my own, or not.  But, my baby girl bailed me out.  Be well and do good, friends.)   —   YUR
Images courtesy of Google