Visual Description:  The alluring aroma?
GNIES  =  SINGE,  NOCEL  =  CLONE,  TBNAET  =  BATTEN,  PSOIGS  =  GOSSIP   —   Giving us:  SNECNTTESS
Clue/Question:  The shipping department at the perfume factory – – –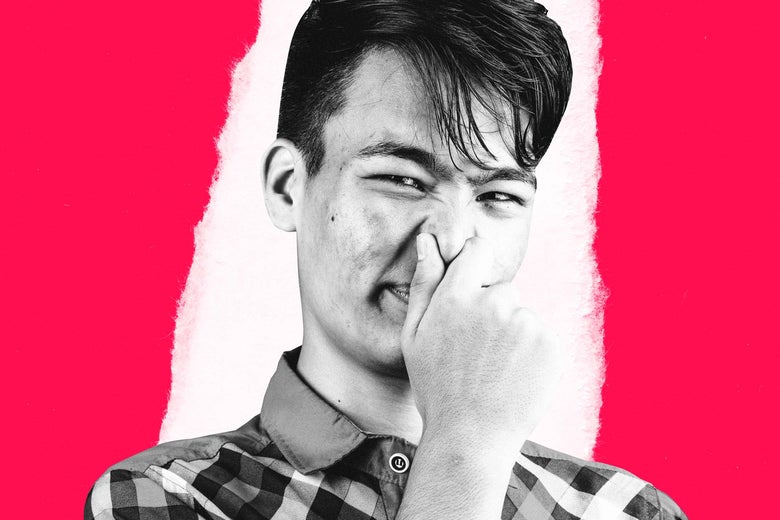 Answer:  SENT SCENTS
(An alliterative stinky pun!  Ya gotta love it.  But you don't have to love perfumes!  So many of these scents are either offensive, or overwhelming to me.  Way back in the 1970s, one of the popular scents was patchouli.  It's from the flowering plant of the same name, and the scent is categorized as musky-earthy.  To me it smells like bread mold, and it makes me gag!  Every now and then I run into some old – or wannabe – hippy who still thinks wearing patchouli oil is cool.  NOT!  A popular perfume I remember in the '80s is called Joy.  I remember people raving how nice it smelled.  Ugh.  All I could smell was the chemicals that make it up.  To me it smelled like Raid, or Black Flag, or d-CON.  Maybe I have some insect DNA in me???  But it's not always the scent itself that I have a problem with, it's the amount that is applied.  I remember having lunch with an old friend a few years ago, and when we did the baci thing I almost had to push her away.  I was thinking to myself:  My God, does she bathe in the stuff???  It was a real turn off.  The funny thing is that perfumes were originally what wealthier people used to use to mask the human funk, before personal hygiene became standardized and expected.  Smelling like a bouquet was preferable to smelling like . . . boo-tay.  There are other . . . down-there smells it helped to hide, as well as good ol' B.O.!  But the vast majority of us bathe regularly now.  There is really no reason for all the flowery stuff, other than it has been so romanticized over the centuries.  The marketing people know what buttons to push too.  Charlize Theron, Natalie Portman, Julia Roberts, Karlie Kloss, Elizabeth Taylor, etc., etc. are all glamorous and beautiful, but using the perfumes they hawk is only going to get you so far, if anywhere.  But don't get me wrong, it's not just the ladies.  There are guys who are just as bad.  A little cologne goes a long way, guys.  And, do you really want to smell like Johnny Depp after he's been out in the hot and dusty desert?  Really??
I'm really giving you guys your money's worth today, huh?!  All well-worn clue words today.  Two of the jumbles have come up as new, but we've definitely seen "gnies" and "nocel" in previous Jumbles.  The answer letter layout was a terse ten letter jumble.  With so few letters, just kind of repeating themselves, it was only semi-cryptic.  Lots of big hints in the cartoon and its dialog.
Great fou-fou factory cartoon!  Jumble No9!  A clever play on Chanel No5!  I bet Jumble No9 smells like a freshly mown Indiana hay field, in the morning!  Inhale!  Smells like . . . victory!  LOL!  Be well and do good, friends.)   —   YUR
Images courtesy of Google
Happy birthday to Timothy J. Mahoney, of 311!