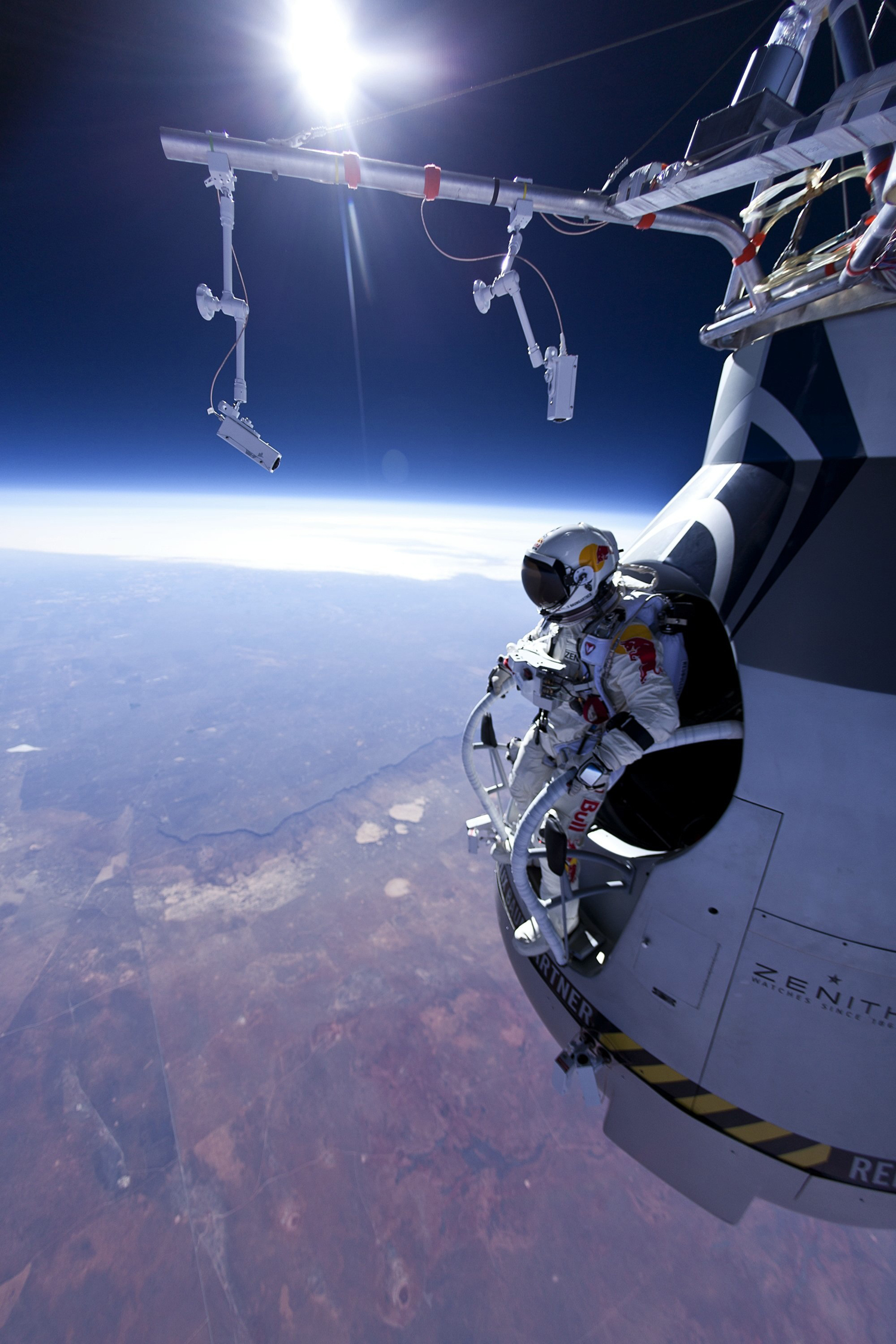 Visual Description:  Millennials watching YouTube hits.
SPIRMH  =  SHRIMP,  VRONEG  =  GOVERN,  CONIRI  =  IRONIC,  PYRICA  =  PIRACY,  TELAHH  =  HEALTH,  TFLIEU  =  FUTILE   —   Giving us:  SHGERIROIACHEHFTE
Clue/Question:  When skydiver Felix Baumgartner jumped from 128,000 feet, he was at the – – –
Pre-Answer:  Four Words  (6-letters)  (2-letters)  (3-letters)  (6-letters)
Answer:  HEIGHT OF HIS CAREER
(I should say so!  "Fearless Felix" – a well deserved nickname – set a number of records that day.  Some which he still holds.  He was the first to break the sound barrier, without the aid of vehicular power, reaching a speed of 843.6 mph!  Also known as Mach 1.25.  This happened way back in October of 2012.  Another guy broke his height record  two years later, but that guy utilized something called a "drogue parachute", whereas Felix did not avail himself of that kind of chute.  Exactly what kind of parachute he used is a mystery to me.   Very cool though.  But, other than proving that it could be done, I don't know how mankind benefits from this feat.  I bet he gets a lot of free drinks and meals as a result though.  And, I'm sure his corporate sponsors richly compensated him.
Hoyt has spared us any new clue words today.  And, if you read my reply to Randy's comment, about one of yesterday's clue words, "thorny", Mr. Hoyt might have to remove said word from the eligible list of Jumble clue words!  Surprisingly, all of today's jumbles are coming up as new, for me.  None of them tripped me up any.  The answer letter layout was a stupendous seventeen letter jumble.  I think there was nothing obvious about it.  The lengths of the final answer slots were the biggest clue, for me.  I got HEIGHT OF right away.  Then figured out the rest from the remaining letters.  A fine pun, indeed.
Fun cartoon from Mr. Knurek.  My guess is that these are college kids, watching the recording of the remarkable event from a dorm room.  But, that's just a guess.  Could be young techie types, working at some internet company.  Hard to tell the difference these days!  Be well and do good, friends.)   —   YUR
Images courtesy of Google.