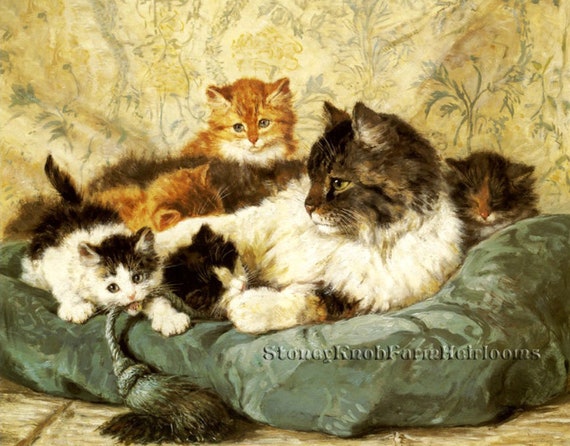 Visual Description:  The lovable litter.
DATIER  =  TIRADE,  MOUNLC  =  COLUMN,  TEBUPA  =  UPBEAT,  COSTEK  =  SOCKET,  NRYREO  =  ORNERY,  KEOIVN  =  INVOKE   —   Giving us:  TDCLBAETONEIOK
Clue/question:  The tabby that gave birth to such a large litter loved the whole – – –
Pre-Answer:  Two Words  "(6-letters)"  (8-letters)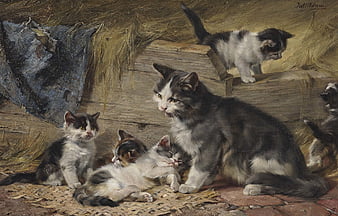 Answer:  "KITTEN" CABOODLE
(Being a sucker for most of the linguistic no-nos, such as puns . . . and alliteration, I always assumed it was Kit and Kaboodle.  The "K" spelling is a semi-acceptable variation, but the traditional, "correct" spelling is with a "C".  Either way – phonetically – it still qualifies as alliteration, for me.
Unofficially, David L. Hoyt has given up on giving us new clue words.  What are you going to do?  You can't get blood from a stone!  At least five of the six jumbles are coming up as new.  The only one that we've definitely seen before is "costek".  I liked the jumbles "tebupa" and "mounlc".  The answer letter layout was a formidable fourteen letter jumble.  But possibly due to the set up of the final answer slots, and the quotation marks, I was able to get the final answer immediately today.
Cute cartoon of the mama cat, and her five playful kittens.  All baby animals are cute, but even people who don't care for cats have to admit that kittens are pretty darn cute!  Easy, but fun Sunday Jumble.  Be well and do good, friends.)   —   YUR
Images courtesy of Google