Visual Description:  Grand Central . . . exit.
RSFIK  =  FRISK,  CCAHO  =  COACH,  TCNOOT  =  COTTON,  CWTIEK  =  WICKET   —   Giving us:  RISOAOTNWKT
Clue/Question:  She had a lot to do while waiting for her train, so she turned a table into a – – –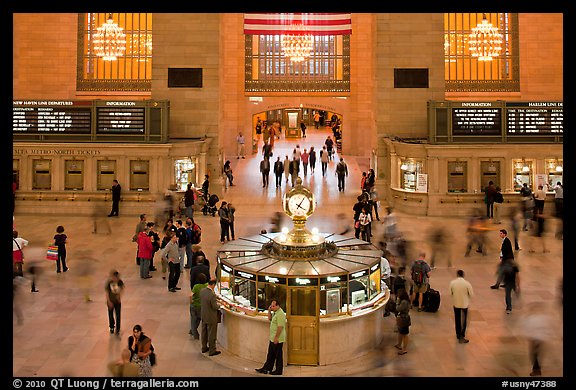 Answer:  WORKSTATION
(That WORKS for me!  Boy, with laptops and Zoom, and other meeting sites, just about any place can become a workstation.  Just be careful to aim the camera properly if you choose to work in your underwear!
I was quite surprised to find "frisk" to be a new clue word!  Our friend ralis95 will have to update his world famous clue word database!  All four of the jumbles appear to be new.  I was able to get them all right away.  The answer letter layout was an enigmatic eleven letter jumble.  I got the final answer right away because of the cartoon.
Fine cartoon of Grand Central Station.  I haven't been there in quite a while, but I imagine this is pretty much what it still looks like.  If there wasn't a pandemic going on it would be much more crowded.  Be well and do good, friends.)   —   YUR
Images courtesy of Google