Visual Description:  Delicious dirty water dogs.
TAAEB  =  ABATE,  PLOYO  =  LOOPY,  CRASEO  =  COARSE,  TOGHAC  =  GOTCHA   —   Giving us:  AALCRTA
Clue/Question:  The mobile hot dog vendor did a great business selling everything – – –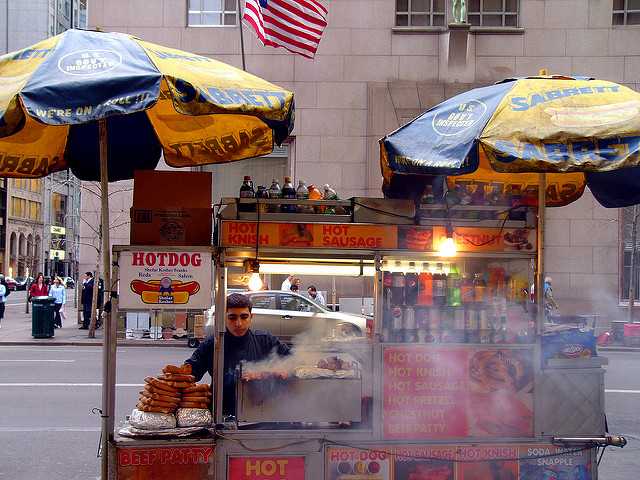 Answer:  A LA "CART"
(Trés bon!  Do they have hotdogs en France???  Would they admit to it if they did?  You know how they are all about haute cuisine!  Also, they may still have a bug up their butts about Germanic food.  A lot of people are kind of down on the lowly hotdog.  They're kind of the low-man on the sausage totem pole.  Lips and as……, as some say.  But, just generally, we don't want to know how the sausage is made.  Or, at least that's the expression.  I'm down with the dogs!  I just don't think about what goes into them, while I'm eating them.  Life is too short for that.  Just eat them in moderation, like most things.  Bon appétit, mes amis!
Hoyt snuck in a new clue word today!  Our good friend, ralis95, will have to update his world famous clue word database for "gotcha".  It sounds like slang to me, but it's in the Merriam Webster's and the Cambridge dictionaries.  All of today's jumbles are coming up as new.  None were too tough.  The answer letter layout was a brief seven letter jumble.  This might have been a little difficult for some.
Cute cartoon of David eating at a hotdog vendor's cart.  Hey, don't you Chicago boys still call it "pop"?  Is that Claire with him?  Better be.  Be well and do good, friends.)   —   YUR
Images courtesy of Google