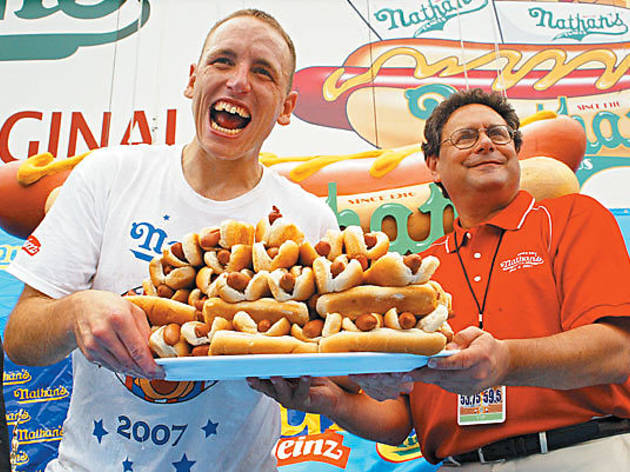 Visual Description:  A future Joey Chestnut?
THOYL  =  HOTLY,  RATAP  =  APART,  WORDSY  =  DROWSY,  SWYILE  =  WISELY   —   Giving us:  HOLAATDROWWSL
Clue/Question:  His claim that he could eat a hotdog in just two bites was – – –
Answer:  HARD TO SWALLOW
(I've never really been able to appreciate the spectacle of these eating contests.  They're essentially obscene displays of gluttony, and – no doubt – waste, as many of the participants end up tossing their . . . cookies.  I guess it's just a perverse kind of fascination.  Kind of like watching a train wreck.  I personally could never do it.  I prefer to enjoy the art of savoring a meal, or even a snack.  Taking my time, and experiencing the flavor of the food.  I'd sooner run a marathon, before entering one of these eating contests.  And, you know that ain't gonna happen!
Huzzah!  We appear to have a brand new clue word for the world famous ralis95 clue word database.  I had a funny feeling while unscrambling "thoyl" that "hotly" might be new . . . and it seems to be so.  Two other jumbles appear to be new, while we've definitely seen "wordsy" before.  The answer letter layout was a great thirteen letter jumble, but the whole setup just made getting today's final answer a breeze, for me.
Great cartoon of teen boys at the sea, or lake, shore.  I can't make out what is on the boy's cap, but I like the foot long vendor cart!  And, just to the right of the vendor cart's umbrella, you can see a tiny, classic sinking sailboat!  A fine Saturday Jumble.  Be well and do good, friends.)   —   YUR
PS.  Google insists on making hotdog two words, but surprisingly WordPress accepts it!  This might be the first time I've agreed with WordPress!   —   YUR
Images courtesy of Google