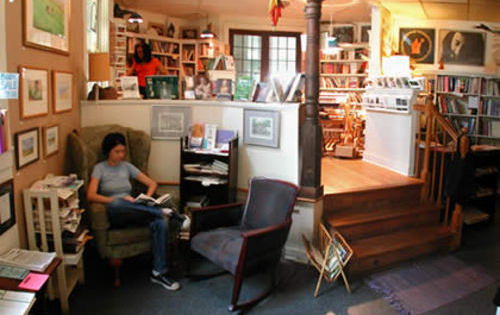 Visual Description:  Angela's ashes???
LOYHL  =  HOLLY,  DONUB  =  BOUND,  SULTES  =  TUSSLE,  GAHIEO  =  HOAGIE   —   Giving us:  OLYBUDTSSOAG
Clue/Question:  The store was closing, and loyal customers came in on the final day for the – – –
Answer:  LAST GOOD-"BUYS"
(A sad stinky pun!  It's always a shame when a mom and pop shop goes out of business.  It's getting harder and harder for small businesses to compete with the big box stores and online vendors.  It just boggles my mind that the generation that essentially grew up in shopping malls now view traditional shopping distasteful.
There were no new clue words today.  Three of the jumbles are coming up as new, with only "loyhl" having definitely been used before.  The answer letter layout was a splendid twelve letter jumble.  Nothing obvious about it.  The hyphen/dash and quotation marks in the answer slots were the big clues for me.  I kinda backed into LAST.
Great cartoon of a closing bookstore.  Angela doesn't look like she's sad to be closing.  Maybe she's just excited, because the two Jumble Studs stopped in!  It's been a while since we've seen both Jeff and David in a cartoon together.  Has Simon made up with Garfunkel???  LOL!  Be well and do good, friends.)   —   YUR
Images courtesy of Google