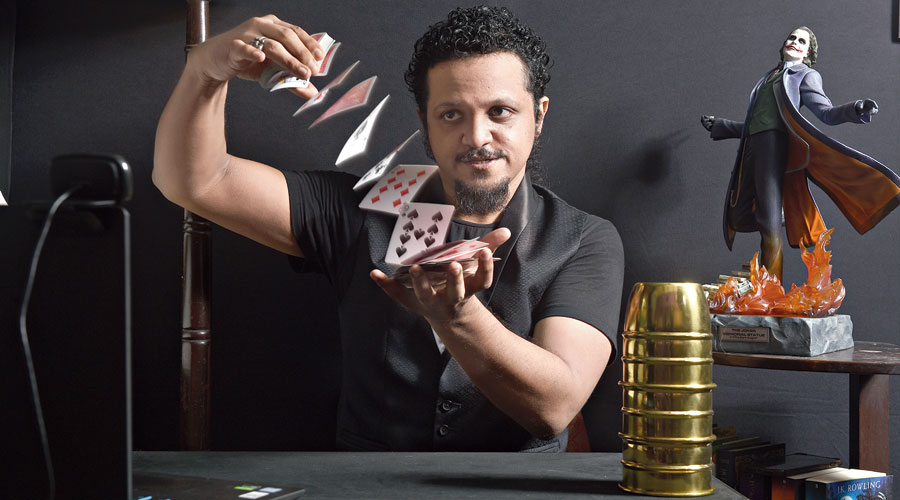 Visual Description:  Pay no attention to the obnoxious looking magician.
SKRIB  =  BRISK,  LTUFE  =  FLUTE,  GRANJO  =  JARGON,  TWAULO  =  OUTLAW   —   Giving us:  BRIFTEJROOW
Clue/Question:  To turn the book into a screenplay, they hired someone who was – – –
Answer:  "WRITE" FOR THE JOB
(Oh, THAT old gag!  I was thinking that the punswer was going to have more to do with magic, or card tricks, or something.  I wasn't looking for a play on right.  A little misdirection today!  But, fortunately, the word JOB kind of stood out, and when I wrote FFRTW and EIO I quickly saw FOR and WRITE.  So, I guess you could sort of say that I backed into the final answer.
No new clue words today.  Three of the jumbles do appear to be so, but we have absolutely seen  "granjo" in the past.  They all came to me pretty quickly.  The answer letter layout is an elegant eleven letter jumble.  I don't think it gave a thing a way.  The set up of the clue/question and the layout of the final answer slots was a big help.
Fine cartoon.  Not sure who any of the characters are supposed to be.  I guess one is the author of the book:  "AMORALMAN", by Derek Del Gaudio.  Of course I couldn't make that out, but a friend explained it to me.  I guess these hidden gems make it more relevant to some.  I do remember Jeff being a big magic buff.  Is the dude in the striped shirt holding a deck of cards?  I'm sure there's more to the story here.  Be well and do good, friends.)   —   YUR
Images courtesy of Google
Happy birthday to Garry Peterson, of the Guess Who, and Stevie Nicks, formerly with Fleetwood Mac!