Visual Description:   Pup pup rip it up!
LAGCN  =  CLANG,  RYERB  =  BERRY,  FEYAST  =  SAFETY,  SPIOME  =  IMPOSE   —   Giving us:  CLRRAETIOE
Clue/Question:  Questioning the dog about the ripped-up newspaper was – – –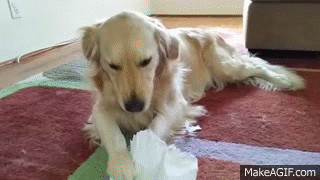 Answer:  "RE–TORE–ICAL"
(Excellent stinky pun!  For a couple of minutes, this morning, I couldn't think of the word rhetorical.  My mind was a blank.  I was getting the gist of the Jumble, but the word was eluding me.  Lack of sleep has that effect on me sometimes.  But, come it did . . .  eventually.
All of today's clue words are familiar old favorites.  But, all of their jumbles came up as new.  "FEYAST" gave me a little pause.  I was thinking FEASTY, but it sounded like something from Festivus – for the rest of us, so I ruled that out, and saw the "safety".  The answer letter layout did a splendid job of hiding the word TORE, which is the punniest part of today's answer.  Even though I struggled a bit for the answer word, I did figure that the first part was RE.
Fun domestic cartoon, with a naughty pooch.  Of course the dog didn't eat the Jumble!  LOL!  I liked the photo on the wall of the couple – and puppy – in younger days.  Another great Jumble.  The top pic's dog looks like my Wally . . . if he'd lose 30 lbs!  The GIF is a blonder version of my Ginger!  Be well and do good, friends.)   —   YUR
Photos courtesy of Google