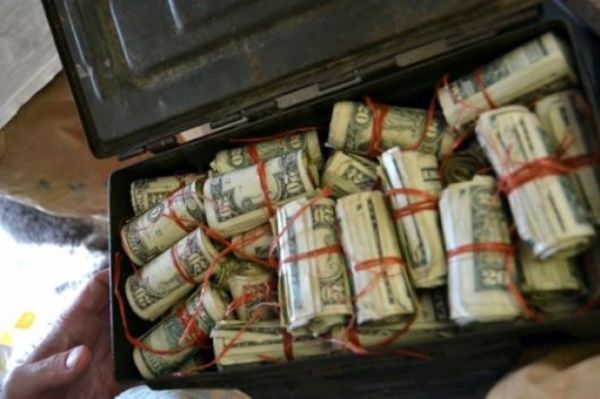 Visual Description:  A great house to break into?
CHAYT  =  YACHT,  CRASF  =  SCARF,  SOHOYC  =  CHOOSY,  PYEDAY  =  KEYPAD   —   Giving us:  ACHSCCHEA
Clue/Question:  The couple didn't trust banks and kept their money at home in their – – –
Answer:  CASH CACHE
(More of a homophone than an actual pun.  But, I like the rhyming aspect of it.  I guess there are still a few Depression Era folks out there who keep large sums of cash in their homes.  Not the safest way to keep your savings, even if Grampa does keep a loaded shotgun by his bed.  You could still lose it all to fire, flood and tornado.  And, burglars could always break in while they're out to church, or supper, or the moving pictures and such!  So, give in Gramps and Grams!  Find yourself a nice S&L, or Credit Union, if it's the big banks you distrust.
To me, it sounds like one of those compound words that I've railed against in the past, but "keypad" is coming up as a new clue word.  It's not on the latest and greatest version of the ralis95 clue word database.  Maybe, on some older Sunday?  I don't know.  Three of the jumbles are coming up as new, with "crasf" having definitely been used before.  The answer letter layout was decent nine letter jumble.  But, the C's, H's and A's kinda gave the final answer away.
Great cartoon of an older couple in their basement.  The other threat to losing some of the money, as Gramma is demonstrating, is forgetting where you put it.  Don't hide your money in your house, people.  It's too risky.  Be well and do good, friends.)   —   YUR
Images courtesy of Google