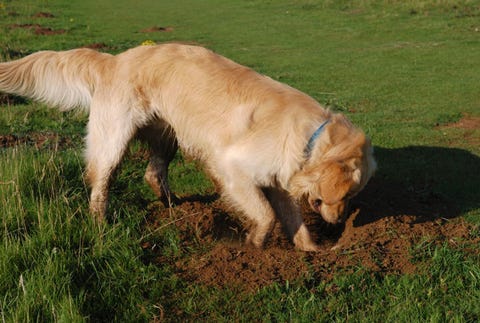 Visual Description:  Bad diggity dog!
SEYSA  =  ESSAY,  RHIDT  =  THIRD,  TRUUHN  =  UNHURT,  PIGMEA  =  MAGPIE   —   Giving us:  ESSTIRUHRTPIE
Clue/Question:  The dog that destroyed his morning newspaper and flowers was an – – –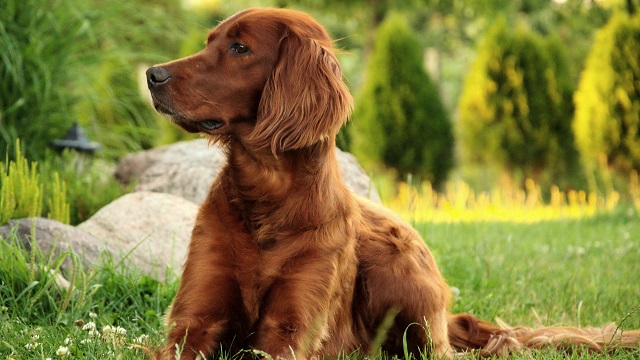 Answer:  IRISH "UPSETTER"
(I found this Jumble pun to be very challenging!  I guess I didn't pick up on the line "His breed is very playful."  I knew the first word started with a vowel, because of the clue/question ending in "an".  But, I first thought it might be UTTER.  And, then I went with UPSET.  But in each case I couldn't do anything with the remaining letters.  Then I thought the second word might be TERRIERS, but I was short an R.  So, before I realized this, I looked up types of terriers, and saw Irish.  When I re-wrote all the answer letters, I checked off S I R H I.  And, that left me with E S T U R T P E.  I knew Jeff's drawing of the dog didn't look like any terrier I'd ever seen.  Too big, with floppy ears and a long tail.  I saw UPSET – again – this time in the remaining letters, and then the light came on!  An Irish Setter who upset his neighbor!  Brilliant!
From this end, it looks like we have a new clue word in "unhurt".  I suppose it could have been used in an earlier Sunday Jumble, but ralis95 will definitely be seeing it today.  Three of the jumbles appear to be new, but we've definitely seen "rhidt" before.  The answer letter layout was an excellent thirteen letter jumble.  It disguised the final answer wonderfully.
Fun cartoon of the naughty doggie, and the – probably – estranged neighbors.  The victim looks like a Mr. Wilson type!  My Golden liked to dig, when she was tied up outside, which wasn't often, but . . .  A fun and challenging Jumble.  Be well and do good, friends.)   —   YUR
Images courtesy of Google