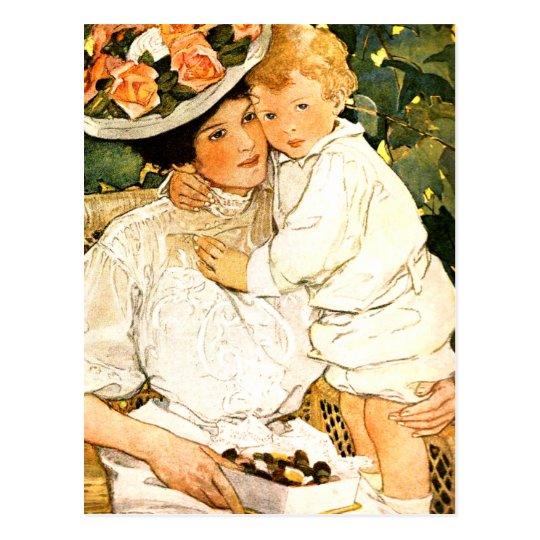 Visual Description:  Presenting the present.
TNRIGS  =  STRING,  LORVET  =  REVOLT,  HEAYMM  =  MAYHEM,  TEAHHL  =  HEALTH,  SEDTOD  =  ODDEST,  CELEFE  =  FLEECE   —   Giving us:  TIROTMHEHHODTLEE
Clue/Question:  When her children all chipped in to buy her a gold necklace, she – – –
Pre-Answer:  Four Words  (3-letters)  (3-letters) (6-letters) (4-letters)
Answer:  HIT THE MOTHER LODE
(Happy Belated Mother's Day to all the moms out there.  I was busy with Mom's Day activities yesterday, and couldn't get around to it last night.  I thought it was a fairly challenging Jumble though.  The big clue, for me, came in the clue/question, with it being a GOLD necklace.
All of the clue words were old familiar ones.  But, all of their jumbles are coming up as new.  I don't think any of them were too tough.  The answer letter layout was a wonderfully cryptic sixteen letter jumble.  Not obvious one bit.
Great family scene cartoon.  Even the dog got into the act!  Mom looks truly touched.  What a good bunch of kids!  And, dear old Dad is hoping he'll get a Beer-of-the Month Club subscription for Father's Day, next month.  Be well and do good, friends.)   —   YUR
Images courtesy of Google