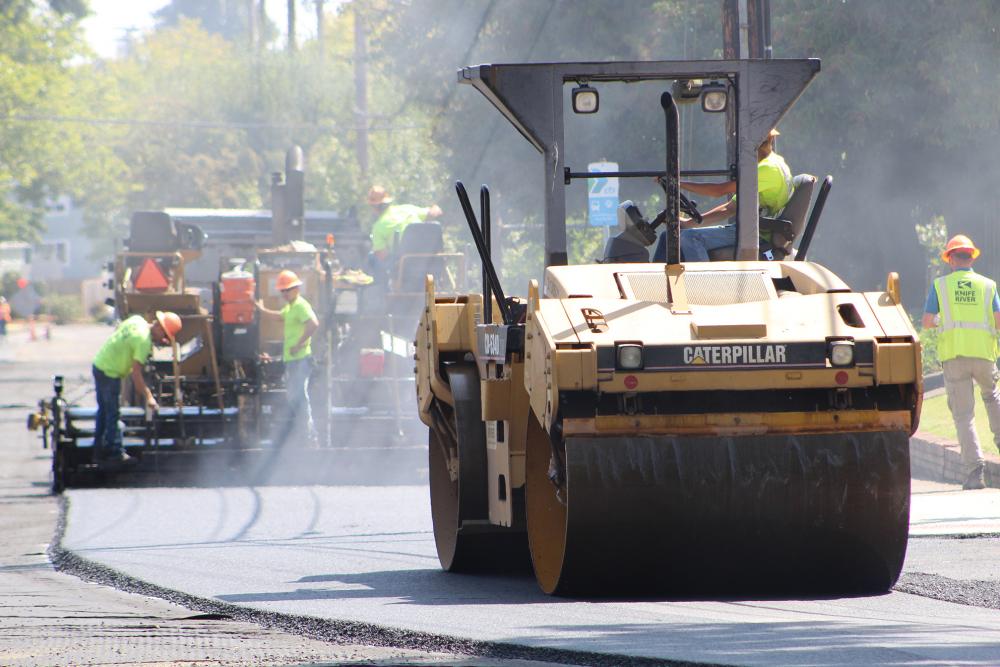 Visual Description:  Paving the way.
DRLEE  =  ELDER,  ROUBR  =  BURRO,  NORRYE  =  ORNERY,  SCNAAV  =  CANVAS   —   Giving us:  EDRRROOEYCAV
Clue/Question:  They re-paved the street leading to the hospital to make it a better – – –

Answer:  ROAD TO RECOVERY
(Tar-nation!  That's a good smelling, stinky pun!  Who doesn't enjoy the smell of freshly laid asphalt?  Commies!!!  That's who!  Un-American types.  Probably Vladimir Putin, Xi Jinping and Kim Jong-un . . . and pitch men like that.  We don't want their kind reading the Jumble anyway.
All of today's clue words were familiar old friends.  However,  all of the jumbles are coming up as new, for me.  But I saw them all right away.   The answer letter layout made for a terrific twelve letter jumble.  I found it delightfully cryptic!  But the whole hospital setting made for a quick solve.
Fun cartoon of workmen laying down blacktop.  Great dump truck, and a good looking steamroller.  Looks like they have things covered.  Be well and do good, friends.)   —   YUR
Images courtesy of Google
Happy birthday to Tim Finn of Split Enz!