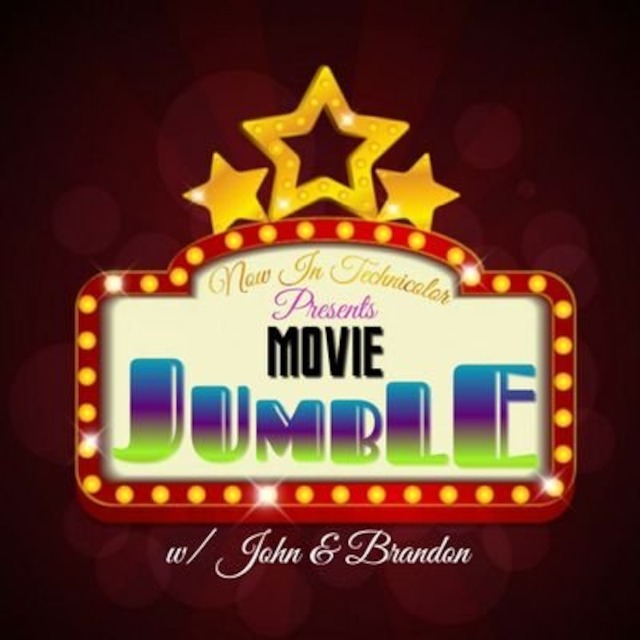 Visual Description:  Jumble:  The Movie!
HWLAS  =  SHAWL,  RVEOP  =  PROVE,  TTOKYN  =  KNOTTY,  BEENTA  =  BEATEN   —   Giving us:  APRKTTEA
Clue/Question:  The audition was for the lead role, and there were plenty of actors there to – – –
Answer:  TAKE PART
(Lead role, huh?  Was this cleared with Mr. David L. Hoyt?  I think Jeff Knurek must be getting a really big head!  Branching out into music, like he's Kevin Bacon, or Gary Sinise, or shudder . . . Joe Scarborough!  And, now he thinks HE'S the lead role in Jumble:  The Movie???  Wow.  No words.  SMH.  JKLOL.  RSVP.  SASE.  LSMFT.  Only unrelated acronyms.
Would you believe that the real star of the show, David L. Hoyt, my cousin – seven times removed, has given us a brand new clue word today, in "shawl"?  Well, it's not on my latest version of the ralis95 clue word database, so it must be new!  Right, Angela?  LOL!  All of today's jumbles are coming up as new.  I had a little trouble with "hwlas".  I'm noting that "knotty" spells out in alphabetical order.  And, I was almost "beaten" by "beenta".  Way to hide in plain sight!  Atleast I didn't have to back into it.  The answer letter layout was a great eight letter jumble.  Ya know, if the guys were really clever, they could've made it a pun on PARTAKE.  You know, with a hyphen and quotation marks.  "PART-TAKE"  Or, maybe they've done that one before?
Great audition cartoon!  At first glance, I though Tom Cruise was Mick Jagger!  But, I can definitely see Tom.  Great Samuel L. Jackson.  He could play the part of Hoyt.  Passable Tom Hanks.  He's got a hint of Stephen Colbert in him.  Not sure if that's Jack Black, or Zach Galifianakis, or one of Jeff's Wilco buddies.  Look at Jeff on the phone, trying to convince me to audition to play him.  Dream on, buddy!  Be well and do good, friends.)   —   YUR
PS.  Sometimes Scarborough reminds me of Beeker from The Muppets!   —   YUR
Images courtesy of Google and Podomatic