Visual Description:  The Hollywood Diner!
WASRPL  =  SPRAWL,  ROULNL  =  UNROLL,  MZNYEE  =  ENZYME,  NIVIED  =  DIVINE,  TASIUH  =  HIATUS,  VRNEOP  =  PROVEN   —   Giving us:  SPRUROEEVEHSPRE
Clue/Question:  She didn't love the waitressing job, but for now, it would – – –
Pre-Answer:  Three Words  (5-letters)  (3-letters)  (7-letters)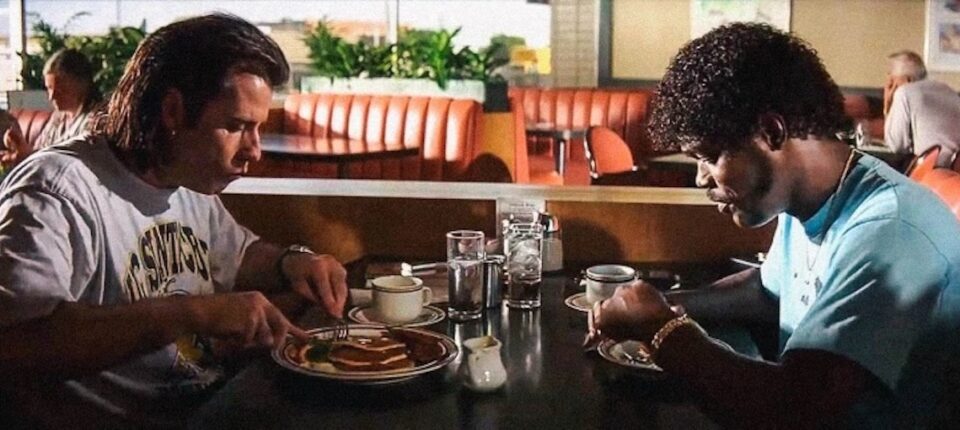 Answer:  SERVE HER PURPOSE
(Ooh!  That is definitely a stinker of a pun.  Probably why I like it so much.  The word "waitress" is another one of those words headed for the scrapheap of passé English words, along with stewardess and actress . . . and I suppose comedienne.  They're no longer "politically correct"!  They bring too much attention to gender.  And, we can't have that now, can we?  To me, this kind of nonsense just distracts us from more important issues.  But then again, way too much of the "news" these days is nothing but distraction anyway.  Did the media go overboard with the Gabby Petito story?  A lovely girl, and a tragic loss, but how many women of color go missing every goddam day in this country, and you rarely hear Boo?  The shooting/killing on the set of "Rust"?  Again, a tragic incident, but if it didn't involve the well-known actor would we have heard ALL that we've been hearing about it?  How dare these stories take airtime away from Britney Spears' conservatorship!  A word, by the way, that WordPress does not even acknowledge.  News today is nothing but glitz and gotcha!  And, even with the things that they do report on, they never seem to delve into the WHY anymore.  It's just report it, and we are expected to accept it . . . without question.  Journalism is supposed to have an element of investigation.  But the folks who call themselves journalists today seem to have forgotten this.  They are deliberately trying to dumb us down.  I know a lot of you probably don't care, but you've been conditioned to think that this is acceptable.  It's not, friends.
Hey!  Guess what?  We have a new clue word today, in "unroll".  I suppose it's possible that we had it in another Sunday Jumble somewhere in the past, but it never made it to the ralis95 clue word database.  I just sent him an email, so he will enter it anon!  I think I started this spoiler before seeing if the jumbles are new, or old.  After I post this I'll put it into Edit mode to see what's what.  This newer version of WordPress only allows me to do so before I bring up the Classic editor, which I usually do.  But I was busy watching the football game, and I got a little distracted.  The answer letter layout is a fabulous fifteen letter jumble.  Nothing was obvious about it, but the final answer did come to me immediately.
I loved the cartoon of the diner scene, because I recognized it instantly as a send-up to "Pulp Fiction".  Jules is talking to Vincent, while wearing another cartoonist's characters tee shirt.  Is that from "MUTTS"?  I think that must be Pumpkin and Honey Bunny holding hands in that rear booth too!  The movie is definitely Tarantino's best.  "Once Upon a Time . . . in Hollywood" is right up there though.  Some of moviedom's most memorable scenes take place in diners.  Excellent Sunday Jumble, guys!  Be well and do good, friends.)   —   YUR
Images courtesy of Google
PS.  It turns out that the jumbles "wasrpl" and "mznyee" have both been used before.  The other four appear to be new jumbles.  The only one that gave me trouble was "tasiuh".  Hiatus is frequently a hard word to come up with!   —   YUR