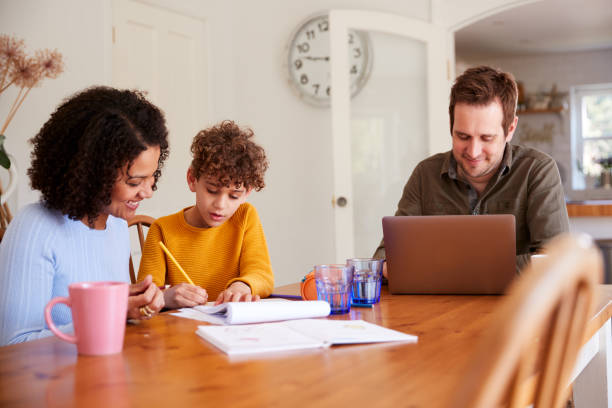 Visual Description:  Cheering up dad.
NUEOC  =  OUNCE,  LIHWE  =  WHILE,  ALSDIN  =  ISLAND,  RNLAMO  =  NORMAL   —   Giving us:  UEWSMA
Clue/Question:  When their son began to learn addition, his proud parents thought it was – – –
Answer:  "AWE–SUM"
(Ba-dum-tsss!  Yes, this is an extremely stinky pun!  If it was a Chinese family, and the son was NOT good at Math, and the clue/question was reworded . . . maybe the answer would be DIM SUM?  Aah, I don't think the guys would risk a Jumble gag like that.  There might be some kind of backlash!
All of today's clue words are tried and true . . . far from new.  Three of the jumbles did come up as new for me.  But we've definitely seen "lihwe" sometime before.  I didn't find any of them difficult today.  The answer letter layout was a sweet six letter jumble.  But the short final answers are usually pretty simple solves.  Especially when there are quotation marks and a hyphen!
Nice homey domestic scene cartoon.  Mom, Dad and the little buckeroo, sitting at the kitchen table, on a Sunday morning . . . after the big game.  And, a contented pooch sleeping under the table.  It looks like Mom is a Wolverines fan, while Dad is a Spartans fan.  That's probably why she looks so chipper, while he looks down in the dumps.  Not a big challenge, but a fun Jumble nonetheless.  Be well and do good, friends.)   —   YUR
Images courtesy of Google
Happy birthday to Glen Phillips of Toad The Wet Sprocket!