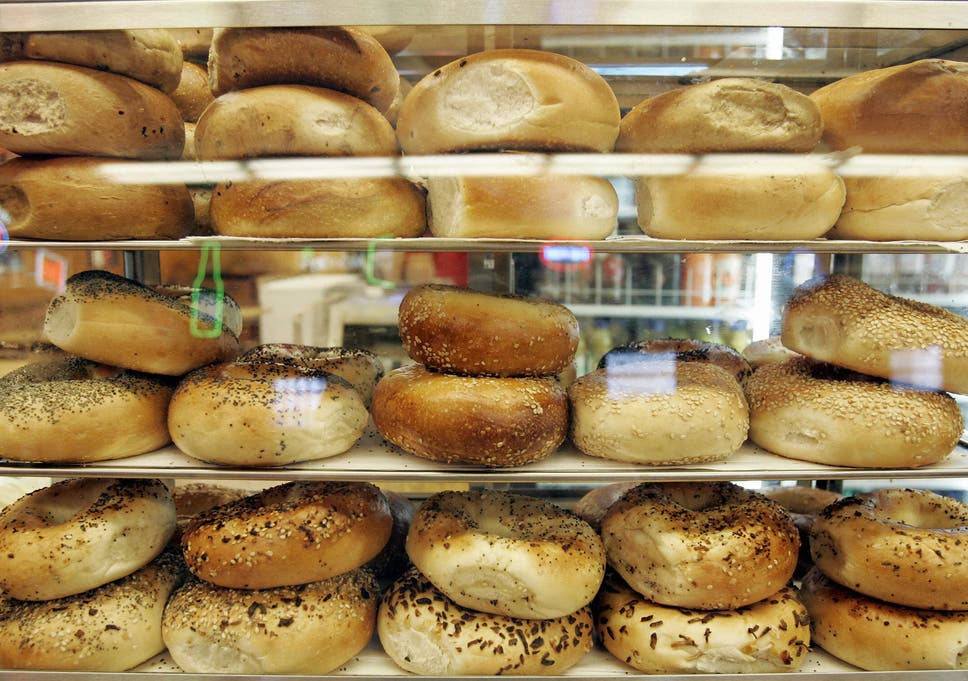 Visual Description:  Bagel love.
VEYNO  =  ENVOY,  GEDDO  =  DODGE,  PTOSYT  =  SPOTTY,  ATLTET  =  TATTLE   —   Giving us:  EODDESPTE
Clue/Question:  The tennis player's favorite bagel was – – –
Answer:  TOP–SEEDED
(I can't say stinky when it comes to bagels!  Bagels are a form of bread, and nothing smells better than fresh baked bread.  Ironically, I never had a bagel until I moved to NYC, thirty nine years ago.  It was the same with Chinese food, Japanese food, Korean and Indian.  Growing up in Western New York, back then, all those things were pretty exotic.  I guess I led a fairly sheltered life.  But, now that I'm a grizzled Nu Yawka, I know bagels!  And the majority of the bagels outside of the greater metropolitan area, in my opinion, are no bueno!  They're usually too small, and too hard, and just don't have enough flavor.  It even took me a while to come up with today's answer because our seeded, onion, garlic, and everything bagels are covered on the bottom, as well as the top.  Perhaps a little moreso on top, but I've seen bagels elsewhere, and they are decidedly top-seeded.
All of today's clue words have been used before.  Two of the jumbles appear to be new, with "geddo" and "atltet" having definitely been used before.  I didn't struggle with any of them.  The answer letter layout was a fine nine-letter jumble.  It hid the answer from me for a few minutes.  I should have picked up on the baker's dialog sooner.  That would've made it a faster solve.
Cute cartoon.  I'll eat just about any kind of bagel, but I prefer the stinky bagels:  onion, garlic, or everything.  Cinnamon raisin bagels are a nice change of pace.  Plain and seeded bagels don't thrill me, but I'll eat 'em.  I don't like the stereotyping of certain foods.  Like some people insist that hotdogs HAVE TO have mustard on them, and bagels HAVE TO have cream cheese on them.  I hate mustard, and I dislike cream cheese!  It's ketchup on my dogs, unless they're chili dogs, and butter on my bagels.  I refuse to be food shamed.  Be well and do good, friends.)   —   YUR
Images courtesy of Google