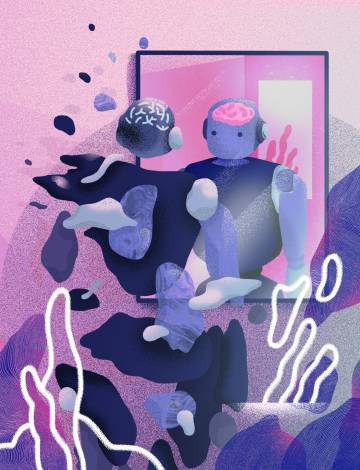 Visual Description:  The setup of a right-winger's joke?
POTLI  =  PILOT,  KROEP  =  POKER,  GEMTNA  =  MAGNET,  NUFEDO  =  FONDUE   —   Giving us:  PIOPKEMNENDE
Clue/Question:  The android was nervous about a positronic brain replacement, but would – – –
Answer:  KEEP AN OPEN MIND
(This sounds vaguely familiar, but I think we – me? – might be experiencing idiom overload!  We also have to remember that there are a fairly finite number of these kind of sayings that the boys can make pun of.  And, even if Jumble fanatics/addicts, like us, catch on to the occasional – to frequent? – rerun answers, we have to remember there are a whole lot of people out there who are experiencing them for the very first time!  Most of us enjoy hearing an old joke . . . as long as it's a good joke.  Right?
None of today's clue words are new.  However, all of the jumbles appear to be so.  The only one to trip me up any was "nufedo".  The answer letter layout was another terrific twelve letter jumble.  The combination of the final answer slots, the clue/question, and the wonderful cartoon made this a fairly easy solve, for me.
Fantastical robotic-al cartoon!  Super depiction of a cyborg-like android, and the human technician servicing it.  I was amused that the android "brain" looks so much like an actual human brain.  The other thing that kind of struck me was how the android could reason and speak . . . with its brain out of its cranial  cavity!  For that matter, how could the android even be holding it???  I wonder which one of the guys is an Isaac Asimov fan?  Hmm.  Be well and do good, friends.)   —   YUR
Images courtesy of Google