Visual Description:  The negotiation.
POSIE  =  POISE,  NYIDK  =  DINKY,  TRTEEL  =  LETTER,  NARACY  =  CANARY   —   Giving us:  ISEDKLETAAR
Clue/Question:  The best pitcher in baseball would stay with his current team if they could – – –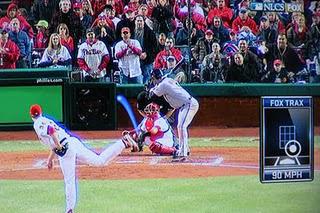 Answer:  STRIKE A DEAL
(Well, we are entering the heart of the baseball season!  Both hockey and basketball will soon become distant memories, and football is still pretty far off.  That other *football*, better known to us Yanks as soccer, seems to be never ending.  And, from my perspective, and many/most Americans . . . meh.  Knurek has some kind of a bounce ball game, that he invented, that appears to be growing, but I think it's still kind of a niche sport.  And, then there's golf and tennis, which I will occasionally watch, but I'm not a "fan" in the truest sense of the word.  I also love the horse races, but they've closed down so many of the OTBs that I don't know where to place a side bet, and my newspaper's sports page has become a total joke!  I really fear that the newspaper is at the edge of folding.  But, enough about sports and such, you guys are here for the Jumble!  Yes, STRIKE A DEAL is a good pun.
I think David L. Hoyt is in a hurry to get those remaining *new words* out to us, because we seem to have another one today in "canary".  Our good friend, ralis95, will be updating his world famous database yet again!  One day, in the not too distant future, *new words* will only be for actual new words to the dictionary!  All of today's jumbles appear to be new.  I didn't struggle with any of them.  The answer letter layout was a cryptic eleven letter jumble.  For some reason, I was a little slow on the uptake.  I knew the last two words had to be A DEAL, but I wrote out ISKETR before realizing the pun.  I still don't feel completely awake, and it's already way past noon!
Fun baseball backroom cartoon.  We've got the player, his agent, and then either the general manager, or perhaps an owner, trying to reach an accord.  The agent resembles a Tom Cruise/Jerry Maguire kind of character.  Great Jumble.  Be well and do good, friends.)   —   YUR
Images courtesy of Google.