Visual Description:  World's tallest!
NANYO  =  ANNOY,  NLUKP  =  PLUNK,  PKTOEP  =  TOPPLE,  MCONOM  =  COMMON   —   Giving us:  ANNLUTOEMM
Clue/Question:  The construction of the 555-foot-tall obelisk in Washington, D.C., was – – –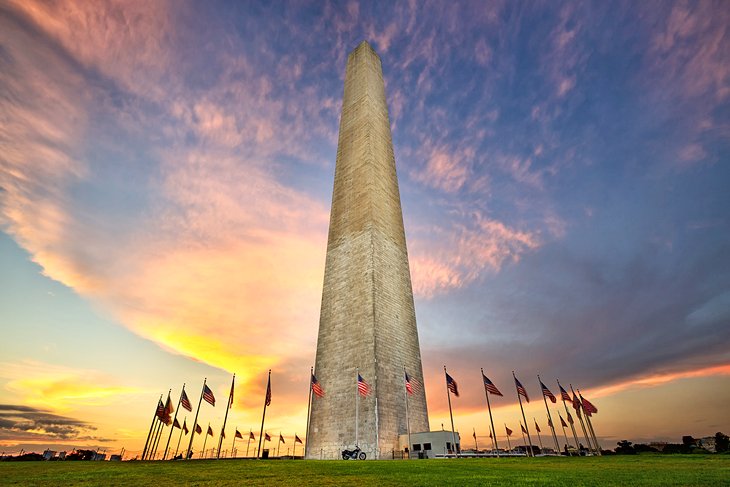 Answer:  MONUMENTAL
(Old George didn't die in battle, but he definitely served his country during wartime.  A lot of folks like to split hairs, and say that Memorial Day is only for those who gave their lives in service of our country.  Actually, that is true.  But does it ever hurt to thank a veteran, or active service person?  Not in my book.  And, I'm generally an anti-war activist.
All of the clue words have been used in prior Jumbles.  Three of the jumbles are coming up as new, however "mconom" has been used in previous Jumbles.  They all came to me right away.  The answer letter layout was a terrific ten letter jumble.  Even though it is an obelisk it is known as the Washington Monument, so the final answer came very quickly.
Great cartoon of two guys marveling at the structure.  It is the world's tallest obelisk!  Followed – ironically – by the Jefferson Davis obelisk.  Both men believed strongly in their cause.  Only history – which is always subjective – deifies the one, and vilifies the other.  Confederate soldiers died in service of their short-lived country too.  I think that all should be remembered, regardless of current sensibilities.  Be well and do good, friends.)   —   YUR
Images courtesy of Google