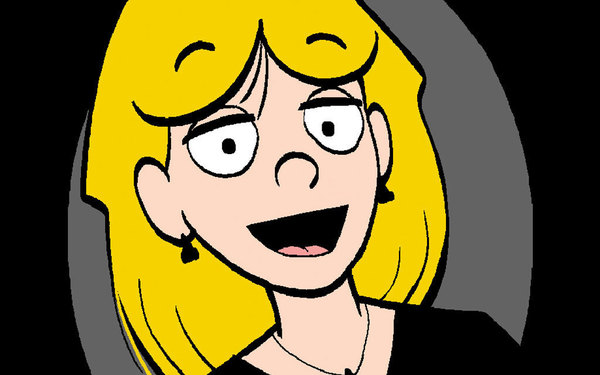 Visual Description:  A slacking Luann.
ESEGE  =  GEESE,  KIHAK  =  KHAKI,  PAYNPS  =  SNAPPY,  MCTEEN  =  CEMENT   —   Giving us:  EEEHAKSPYCET
Clue/Question:  Hoping to get away from her homework, Luann reached for – – –

Answer:  THE ESCAPE KEY
(So, I guess the Sunday Jumble was setting up the Guest Jumblers week!  Great.  I always enjoy the guest Jumblers.  And, Luann happens to be one of my favorite comics.  I've been reading it since it was more crudely drawn, and Luann was just a kid with a big crush on Aaron Hill, and her brother Brad was just a big doofus.  She's almost like a daughter to me.
There were no new clue words this day.  Three of the jumbles came up as new, for me.  However, we have definitely seen "esege" in previous Jumbles.  No real stumpers though.  The answer letter layout was a twisty twelve letter jumble.  It did an admirable job disguising the final answer.
That's Luann alright!  She's in college now, and her parents run a nice restaurant.  They've added a good number of characters over the past few years.  They give Luann more story lines.  I never knew that Greg Evans did the comic strip with who I'm guessing would be his wife, Karen!  They should put her name on the byline!  Be well and do good, friends.)   —   YUR
Images courtesy of Google