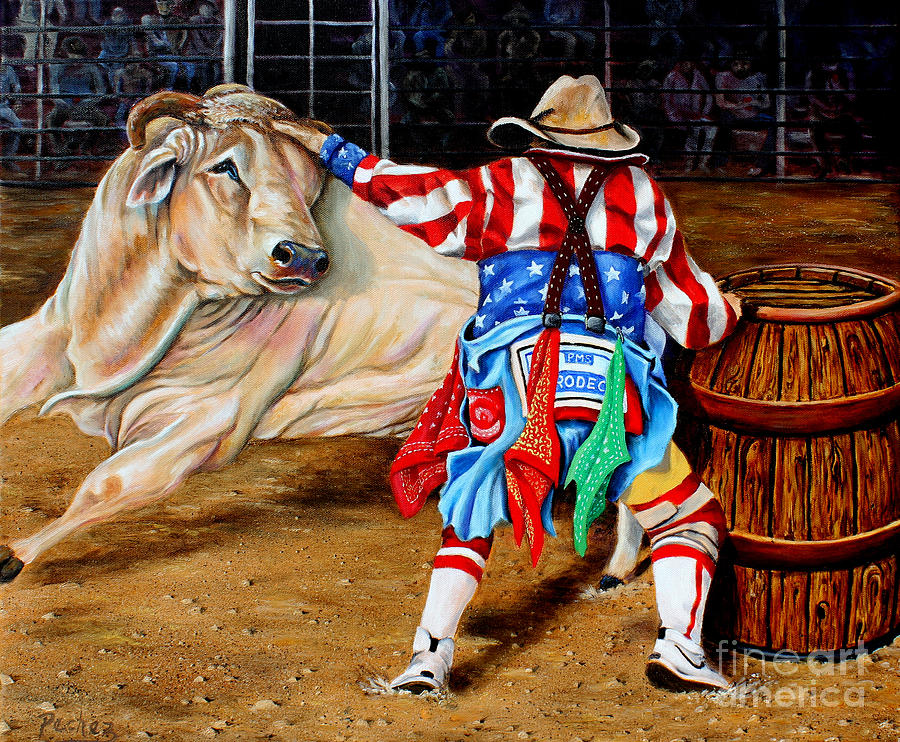 Visual Description:  Jeff felt like riffing.
MBUOJ  =  JUMBO,  ODESU  =  DOUSE,  TRYPET  =  PRETTY,  CINLPE  =  PENCIL   —   Giving us:  UBODOTTPEI
Clue/Question:  The guy who wasn't tech-savvy got so frustrated with his computer that he – – –
Answer:  BOOTED IT UP
(I guess even cowboys get the blues!  I've wanted to kick my computer, from time to time, but fortunately cooler heads prevailed.  Although, back in the day of the heavy CRTs I did bruise some knuckles a few times.  But, it didn't seem to help matters any.
All of today's clue words are familiar old friends.  However, all of the jumbles came up as new.  None of them tripped me up, but my neighbor told me his wife tried to make "odesu" sudeo!  I guess she's another Phil Collins fan.  The answer letter layout was a fun ten letter jumble.  If you didn't pick up on the rather strange cartoon I suppose you could have struggled coming up with the final answer.
Jeff kinda went out of his way to imply booting up a computer.  It's a great cartoon though.  I don't usually think about laptops at a rodeo.  But, ya gotta love the frustrated cowboy, the rodeo clown, the barrel and the bull.  That bull looks like he wants to tear someone apart!  A silly, fun, Monday Jumble.  Be well and do good, friends.)   —   YUR
PS.  Congrats to the Kansas City Chiefs, and all of their diehard fans, for their victory in Super Bowl LIV!  It was a fairly surprising comeback, as Patrick Mahomes seemed to be a little off yesterday. San Fran should be a viable contender again next year.  Andy Reid has sealed his path to Canton.  I'm probably happiest about that.   —   YUR
Image courtesy of Google and Fine Art America