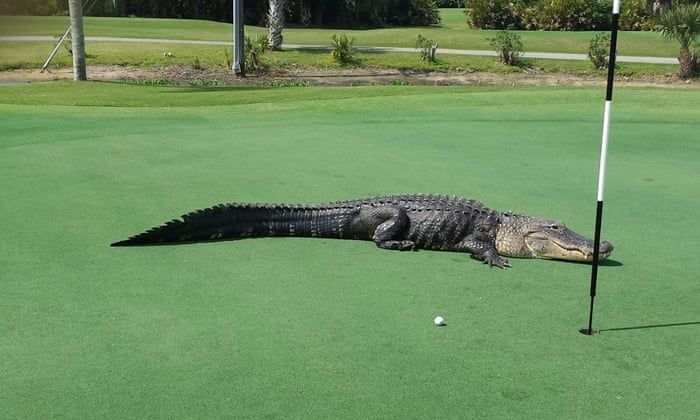 Visual Description:  Catch of the day!
OPENR  =  PRONE,  NYHOP  =  PHONY,  NUGIES  =  GENIUS,  BARJEB  =  JABBER   —   Giving us:  POEPHNNISAER
Clue/Question:  When they spotted the alligator on the golf course, it caused – – –
Answer:  APPREHENSION
(These long, single word answers very often give me a hard time.  I didn't get it right away.  And when I did, I didn't even get the pun for a minute, or so.  I was just thinking of the fearful uneasiness aspect of the word.  The capture aspect hit me a bit later.
No new clue words today.  I guess yesterday's RHINO must have been a new word, because no one corrected me.  Two of the jumbles appear to be new, but we've definitely seen "openr" and "barjeb" before.  The answer letter layout was a tantalizing twelve letter jumble.  Definitely nothing obvious about it.
So, that's where David L. Hoyt got those alligator shoes!  Just kidding, folks.  I know this was a catch and relocate operation.  I'm pretty sure they are no longer endangered, but there's no sense in killing them just because they're a threatening nuisance.  All the world's creatures have a right to life.  Be well and do good, friends.)   —   YUR
Images courtesy of Google