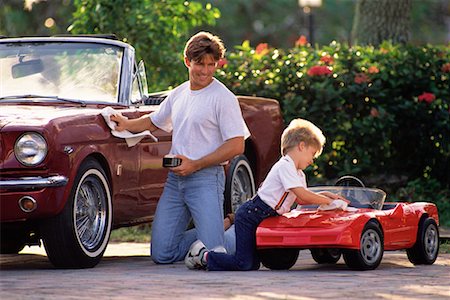 Visual Description:  If Daniel-san had a Papa-san.
NUKNSE  =  SUNKEN,  BNAREN  =  BANNER,  THROET  =  HOTTER,  VISARO  =  SAVIOR,  PGROEH  =  GOPHER,  CINOIR  =  IRONIC   —   Giving us:  SEBNNHOTSIGHRI
Clue/Question:  When he and his dad washed and waxed the car together, there was – – –
Pre-Answer:  Two Words  (6-letters)  "(3-letters)-(5-letters)"
Answer:  BRIGHT "SON–SHINE"
(Okay.  A pretty stinky pun!  I'll admit it.  But, even the snooty types can forgive this, because it's Father's Day!  The day when Dad jokes are A-Okay!  Even expected.  I guess the future's so bright . . . they gotta wear shades!
One of those days where all of the clue words are already on the ralis95 clue word database.  However, all of the jumbles are coming up as new!  I didn't struggle with any of them though.  The answer letter layout was a phenomenal fourteen letter jumble.  Beautifully cryptic!  If it weren't for the quotation marks and hyphen, and all the visual clues, this would've been a much tougher solve!
But, the intense sunshine, and both father and sun wearing sunglasses, and the sheen coming off of the car, led me to SON-SHINE.  Then the BHTGRI got me to BRIGHT.  A little surprised NOT to see a "J" on the front of that coupe.  Maybe the guys have been told to cool it with that sort of thing.  Well, I hope that David and Jeff, and all the other great dads out there, have a wonderful Father's Day!  Be well and do good, friends.)   —   YUR
Images courtesy of Google