Visual Description:  For his loafers???
VOCTE  =  COVET,  NTLIF  =  FLINT,  REUVSS  =  VERSUS,  MHEANU  =  HUMANE   —   Giving us:  COTFINESSHAN
Clue/Question:  When they debuted the new Ralph Lauren penny, they showed their – – –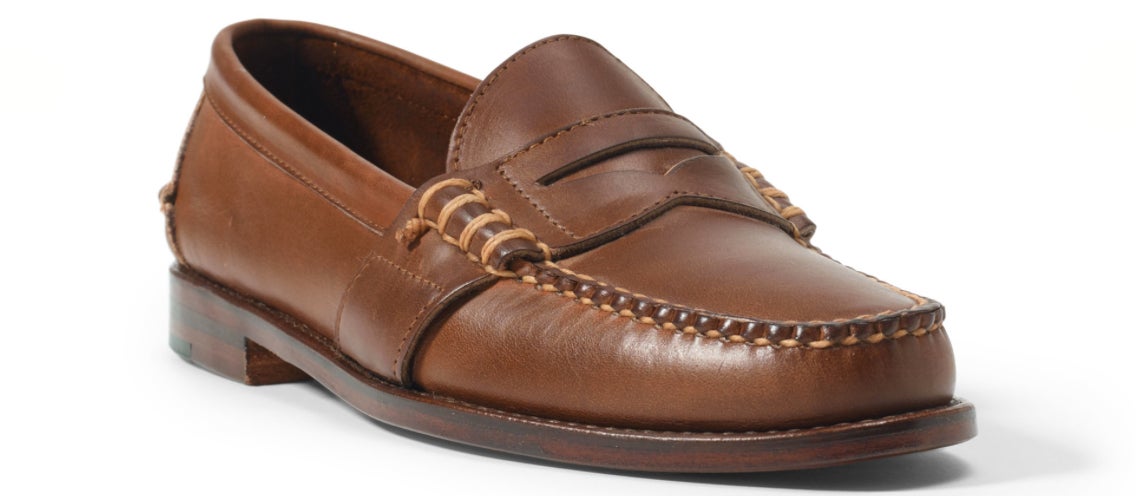 Answer:  FASHION "CENTS"
(Ya know, they way that our entire country – and most of the world – has become so corporatized, I wouldn't put it past the federal government to allow – and profit from – the corporate sponsorship of our coinage and banknotes.  Our municipalities used to name their stadiums and arenas after famous people, or things that were distinctive to their communities.  Now not only the venues but even many/most of the events have corporate sponsor names attached to them.  This bowl season has seen the Capital One Orange Bowl, the Allstate Sugar Bowl, The Goodyear Cotton Bowl, the Taxslayer Gator Bowl, the Prudential Rose Bowl, the Chik-Fil-A Peach Bowl and the Cheez-It Citrus Bowl!  And that's just the older/better known bowl games.  Some of the lesser bowl games have even more ludicrous sponsorship!  I think it's shameful and embarrassing, but it has become so pervasive that most of us have just become numb to it.  How long before there are corporate sales reps in our maternity wards offering to sponsor the names of our newborns?  Ridiculous???  Get back to me in 10 years, to tell me I was wrong.
All of today's clue words are on the one and only – completely unsponsored – ralis95 clue word database.  Three of the jumbles are coming up as new for me, but it seems that we have seen "mheanu" in at least one prior Jumble.  I wonder if one of the Caveman's Commandments was:  Though shalt not covet thy neighbor's flint!  And maybe designers will compete for our pennies.  Then we'd get Calvin Klein versus Ralph Lauren!  Is Polo considered a humane sport?  Because I hear a lot of valid complaints about thoroughbred racing.  The answer letter layout was a hip and happenin' – aka: trendy – twelve letter jumble.  I thought it was stylishly cryptic.
Great cartoon of Ralph Lauren with one of his top graphic designers.  I like how Jeff kept the cartoon fairly simple, with crisp clean lines.  I hear that it is costing the U.S. Mint a little more than two cents to produce each penny, so they will either phase out the penny, or they might succumb to corporate sponsorship.  That's okay, Abe.  You had a darn good run!  Be well and do good, friends.)   —   YUR
Images courtesy of Google