Visual Description:  A pun within a pun!
MHIPC  =  CHIMP,  NROFT  =  FRONT,  RHOYTN  =  THORNY,  MTIRAU  =  ATRIUM   —   Giving us:  IPFOTTRNARU
Clue/Question:  With her new pottery wheel installed, she was hoping to be able to – – –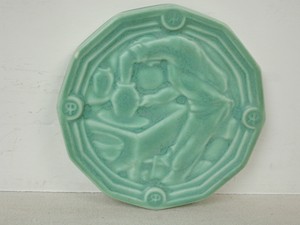 Answer:  TURN A PROFIT
(A double pun, or a little cheating "bonus clue"?  Hmm!  You know, you can't make a TURN without an URN!  But, it's all in good fun.  I was probably one of THE worst potters to ever sit behind a wheel.  I had no touch whatsoever.  It was always either too thick, or I'd go just a little too far, and it would kind of sag.  Which was always kind of sad.  Yes, I was really bad.  Which rhymes with dad . . . but that's for tomorrow's Jumble.
We have yet another new clue word today, in "chimp"!  Our good friend ralis95 will be updating his world famous clue word database once again!  All of today's jumbles appear to be new.  I had to – or chose to? – back into "atrium".  Maybe, because the word starts with a vowel?  MTIRAU is just a great jumble!  The answer letter layout is a great eleven letter jumble too.  With the clue/question, and the "urn", I was able to figure out the final answer from those first eight letters.  Knowing I had to use the U, A and R allowed me to back into "atrium".
Fine cartoon of a pottery wheel.  It is really a good thing that I didn't have to make my own bowls and plates, and such.  Sorry, Mrs. Hauser!  Be well and do good, friends.)   —   YUR
Images courtesy of Google