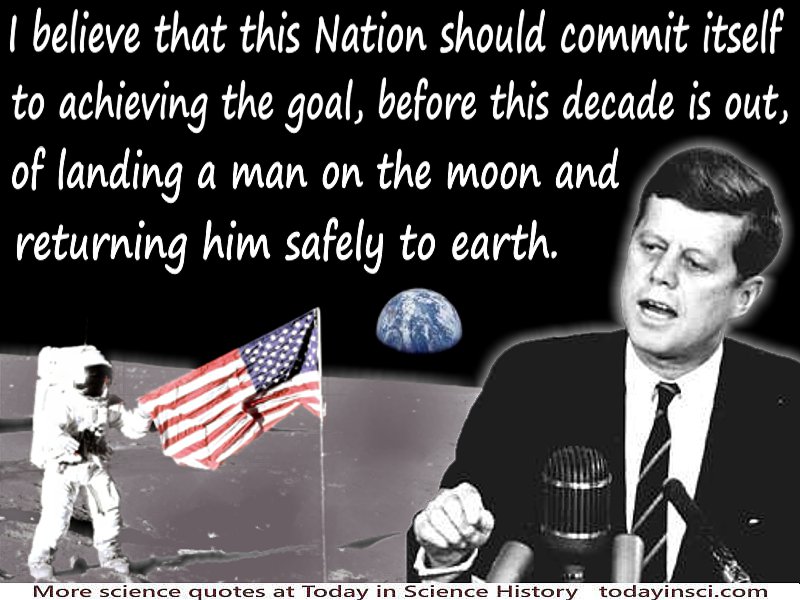 Visual Description:  JFK at Rice University.
LUEHPD  =  UPHELD,  MARHEM  =  HAMMER,  LCCAIO  =  CALICO,  NRICIO  =  IRONIC,  FLEAHB  =  BEHALF,  TDOYSG  =  STODGY   —   Giving us:  PDMMEIORONEHSTO
Clue/Question:  In 1962, when Kennedy declared we'd land a person on the lunar surface, he – – – 
Pre-Answer:  Three Words  (8-letters)  (3-letters)  (4-letters)
Answer:  PROMISED THE MOON
(Promise kept!  Too bad he wasn't around to see it, though.  I know some people who are convinced that the whole lunar landing was faked!  Filmed on a Hollywood back-lot, or sound-stage, they say.  I don't mind entertaining any number of "conspiracy theories", but I never bought into this one.
Lots of interesting jumbles today.  I almost had to back into "upheld", but I finally saw it before that was necessary.  And, "fleahb" wasn't exactly automatic, for me.  They're all coming up as new.  All of today's clue words we've sometime before.  The answer letter layout was a wonderful fifteen letter jumble.  I don't think it gives anything away.  But, when I read "lunar surface" in the clue/question I just knew the last two words of the final answer had to be THE MOON.  From the PDMEIORS I came up with PROMISED.
Today's cartoon was very difficult to look away from.  I always try to leave the cartoon for last, but it kind of called to me.  Not a bad Jack Kennedy.  It looks a little like a hybrid of John F. Kennedy and Ted . . . Koppel, but that just could be me.  Cartoons of JFK are pretty rare, and probably pretty difficult.  That's all from me, folks.  Be well and do good, friends.)   —   YUR
Images courtesy of Google