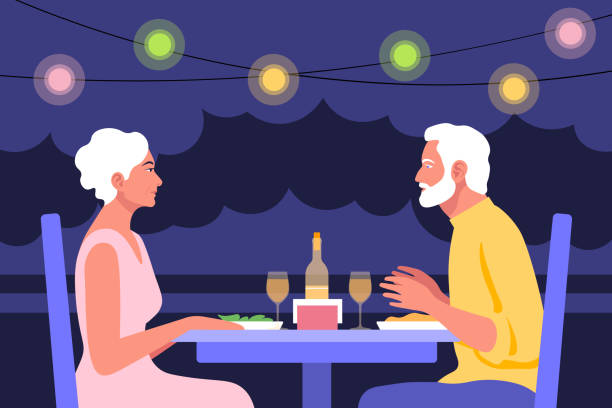 Visual Description:  A SeniorMatch meetup?
NMISU  =  MINUS,  NHHUC  =  HUNCH,  MMNTEO  =  MOMENT,  TMDOHE  =  METHOD   —   Giving us:  INHONO
Clue/Question:  When they greeted each other at the restaurant at 12 PM, it was – – –
Answer:  "HI" NOON
(A lunchtime liaison for latent lovers???  Perhaps!  Hey, everyone needs a little companionship!  And chances are that this is a widower and a widow.  Both consenting adults, trying to make a connection.  A lunchtime date is perfect because it gives them both enough time to make their afternoon naps!  I'm sure that one, or both will order the blue-plate special.  Do restaurants still offer those???
We have most definitely seen all four of today's clue words in previous Jumbles!  Three of the jumbles are coming up as new, for me.  But we've definitely seen "nmisu" some time in the past.  No real toughies today, for me.  The answer letter layout was a slant six letter jumble.  Kinda hard disguising a two letter and four letter word answer, but it was sufficiently cryptic.  The quotation marks always help too.
Cute cartoon of the two vertical seniors, greeting each other at the restaurant.  One using a walker, and the other a tripod cane.  Hey, all things will be equal if they get horizontal!  But let's not get ahead of ourselves.  First they have to compare photos of their grandchildren, and exchange a laundry list of their aches and pains.  The gent is more impressed with her timeliness, but she seems a little hot to trot, throwing out the "handsome" right off the bat!  It's a ballroom dancing term, kids.  It has something to do with the Foxtrot.  LOL.  I hope the date works out for both of them.  Be well and do good, friends.)   —   YUR
Images courtesy of Google