Visual Description:  First Americans.
NEBDL  =  BLEND,  TOBOH  =  BOOTH,  WLAUFL  =  LAWFUL,  DRURED  =  RUDDER   —   Giving us:  BLNOOHAWLDDE
Clue/Question:  The first people to see the Grand Canyon were surprised and thought – – –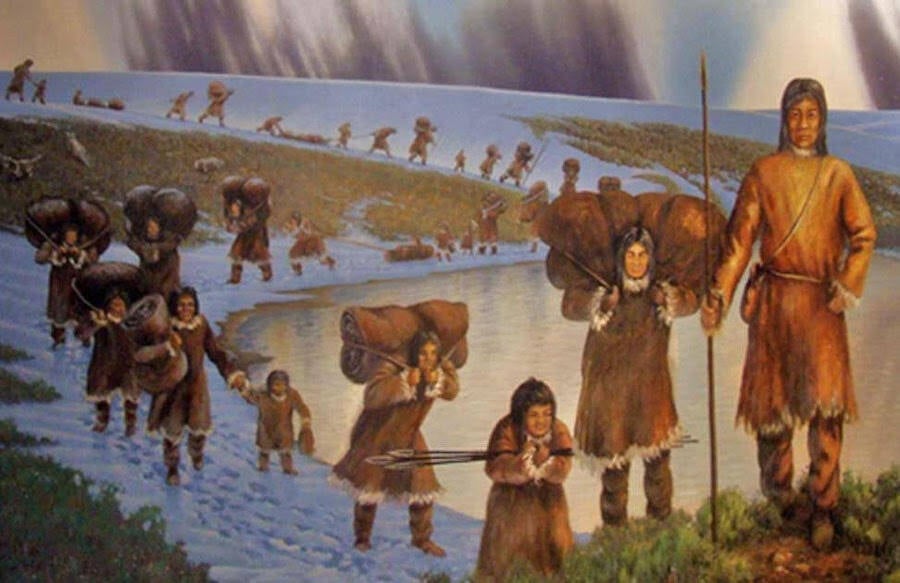 Answer:  "LOW" AND BEHOLD
(I guess they were in for one heck of a walk!  The Grand Canyon is a mile deep, 18 miles wide, and 277 miles long!  That makes for 1904 square miles!  And, depending on where they ran into it – and hopefully they chose the shorter of the ways around – it could've been substantially less of a hike.  But, this was WAY before New Balance was around!
All of today's clue words were seen by the first people of the Americas!  Three of the jumbles are coming up as new, but it appears we've seen "drured" at least once before.  They all came to me quickly.  The answer letter layout was a twisty twelve letter jumble.  Wonderfully cryptic.  The final answer did not jump right out at me.  The expression:  Lo and behold has been around, in various forms, since the Bible. Genesis 15.3, or so I'm told.
Beautiful cartoon of some of the first people to experience the wonders of the Grand Canyon.  For a while archaeologists thought the first Americans came over from Asia around 13,000 years ago, and they were dubbed the Clovis people.  But now they think it was more like 15,500 years ago.  Possibly even longer!  And, even if they originated from Asia it's a pretty good bet they weren't from India!  Be well and do good, friends.)   —   YUR
Images courtesy of Google