Visual Description:  Roger's first of seven.
OSBNI  =  BISON,  LOOCR  =  COLOR,  MRIEMS  =  SIMMER,  UNDOEF  =  FONDUE   —   Giving us:  BIOOLOSMMRFNDE
Clue/Question:  After Sean Connery retired from playing 007, they were able to make – – –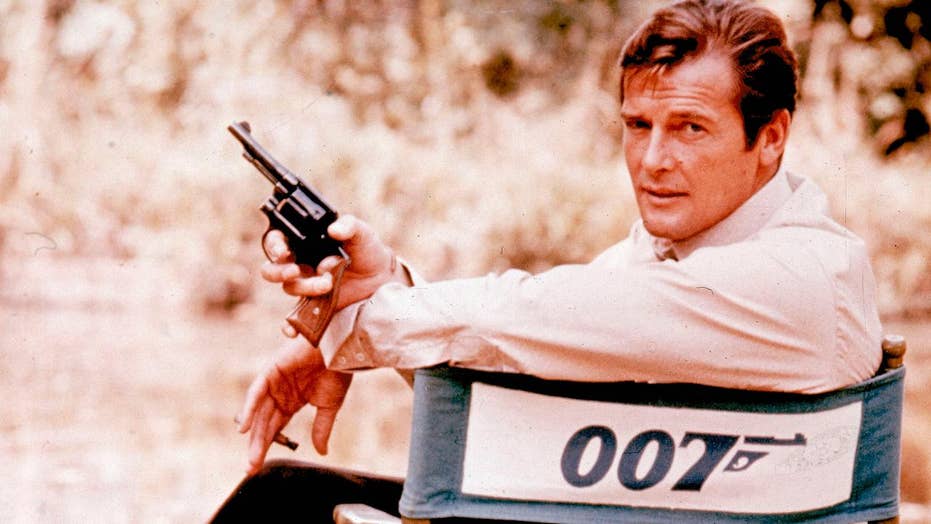 Answer:  "MOORE" BOND FILMS
(A marvelous stinky pun!  And, one that some of our younger readers may have struggled to get.  Not that we have a whole lot of young puzzlers, but there are some out there.  The younger ones probably only know Daniel Craig and Pierce Brosnan.  Possibly Timothy Dalton.  But, Roger who???  Roger actually holds the title for most Bond movies, at seven, followed by Sean Connery, at six.  You could call it a tie, if you count "Never Say Never Again", which was kind of a remake of "Thunderball", and by a different production company than the other Bond films.  I remember seeing that one with my semi girlfriend, Doreen, back in 1983.  She was so pretty, but she was just not that into me.  Heavy sigh!
No new clue words today.  But, it's another day where all the jumbles are coming up as new.  No stumpers today though.  A very impressive fourteen letter answer letter layout jumble.  Nothing obvious about it.  Again, if I weren't of a certain age I might have struggled to get the final answer.  The quotation marks were a help.
Nice cartoon of a '70s bijou.  Great 'fro, or perm, on the ticket guy.  The main characters were not over-the-top 1973 types.  But, still a nice period piece cartoon.  Be well and do good, friends.)   —   YUR
Images courtesy of Google