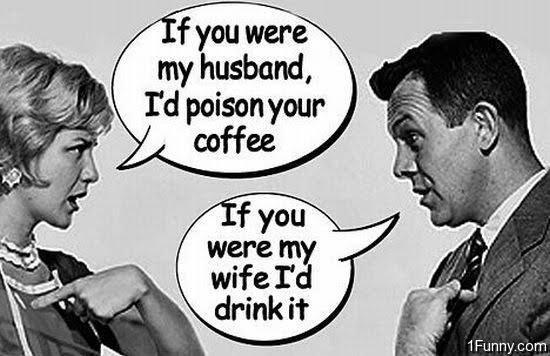 Visual Description:  Cantankerous caffeine craving crank.
MRAFE  =  FRAME,  GGION  =  GOING,  SIFNUO  =  FUSION,  MACERY  =  CREAMY   —   Giving us:  FAEGONFIONCEM
Clue/Question:  The chronic complainer was up early drinking his – – –
Answer:  "MOANING" COFFEE
(I can relate to our crotchety compadre!  But my complaints relate to the actual delivery of the newspaper, which can be more hit-or-miss lately.  Once I have it, I rarely have a complaint about the Jumble.  More observation, and occasionally a . . . slight critique.  My bigger issue is more frequently with the Cryptoquote!  Too often they're a re-run, which isn't the newspaper's fault, but sometimes on Sundays they kind of squeeze it in awkwardly, which can make solving it more difficult than normal.  But I don't complain to my wife.  I save these . . . observations for you guys!  LOL!  If anything, I'm the one who would like a little silence in the morning.  I don't need any AM conversation, thank you.
We've seen all of today's clue words in previous Jumbles.  However, three of the jumbles are coming up as new, for me.  We've definitely seen "ggion" in the past.  No stumpers for me today.  The answer letter layout was a thoughtful thirteen letter jumble.  I thought it was perfectly cryptic!  From the clue/question, and the cartoon, I knew right away that the second word was COFFEE.  With the quotation marks, and remaining letters, I came up with the pun part:  MOANING.
Great kitchen table scene, with an older married couple.  It looks like Ma likes to do the Jumble on her cellphone, while Pa prefers the paper.  My wifey likes doing Word Search puzzles, but they only come on Sundays, in our paper.  I'm glad that I don't have competition!  Ma's got the I ❤ Jumble mug.  His has some kind of chemical notation, that I can't quite make out.  Angela???  LOL!  Be well and do good, friends.)   —   YUR
Images courtesy of Google
Happy birthday to that gorgeous creature, Alicia Keys!  (Not really my genre, but . . . that face!!!)