Visual Description:  Exhausted shoppers.
MPETT  =  TEMPT,  FOYLT  =  LOFTY,  SOONPI  =  POISON,  WARELY  =  LAWYER   —   Giving us:  TETLOTPSNLAY
Clue/Question:  After a long day of shopping, the roommates came home – – –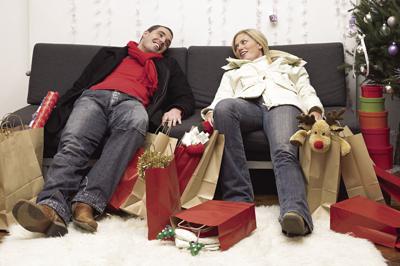 Answer:  TOTALLY SPENT
(Excellent pun!  And, this exactly what we need to see more of, unless we want to see more brick and mortar stores closing!  Macy's just announced that they will close 125 stores over the next three years.  Of course the culprit is online shopping, with the main one being Amazon.  This means that Macy's will be eliminating about 2000 jobs.  The generation that once spent hundreds of hours every year in shopping malls, now treat them as if they were biblical leper colonies!  The world has turned upside down, my friends.
All four clue words are familiar old friends.  Two of the jumbles appear to be new, with both "foylt" and "warely" having definitely been used before.  Those were the two that I marked as difficult, although I solved them all quickly.  The answer letter layout was a great twelve letter jumble.  The cartoon and some of the dialog were the big hints.
Fine cartoon of two satisfied, but tuckered out shoppers.  Looks like shoes and clothes, but lord only knows what else.  Fine Jumble.  Be well and do good, friends.)   —   YUR
Images courtesy of Google